Remember when Brad Pitt and Jennier Aniston were the dream couple in Hollywood? No? Well, that was 20 years ago, and we're feeling old. Nevertheless, Jen and Brad have become something of a buzzword once again since Pitt's split from Angelina Jolie. In the last couple of years, Brad and Jen have appeared together on several occasions, apparently ready to bury the hatchet (have you seen their recent Fast Times at Ridgemont High read-through?).
Back in 2000, though, they had just bought a home together – and it's just sold in an off-market deal for $32.5 million, heftily discounted from the original listing price of $54 million. This house is as Hollywood as it gets, originally built in 1934 for actor Fredric March and occupying a cul-de-sac in Beverly Hills.
Find more wonderful real homes – from cute English cottages to brilliant self builds – on our dedicated page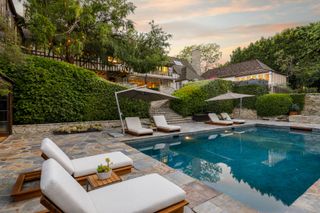 Although hedge fund executive Jonathan Brooks, who owned the property between 2006 (a year after Jen and Brad's divorce) and now made some additions to the property, it is still much the same as when the newlyweds renovated it in the early 2000s.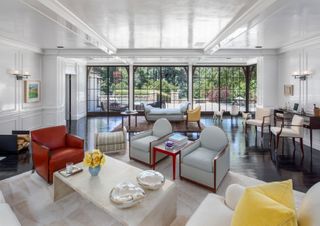 Some of the renovation features were perfectly in keeping with what a couple of Hollywood A-listers might want: heated marble flooring throughout the kitchen, a private screening room, and the addition of a tennis court. Other additions were a bit more whimsical, most notably the addition of the property's own on-site pub that had reclaimed flooring brought in from a 200-year-old French château (ooh-la-la). The extensive renovations took the couple three years to complete.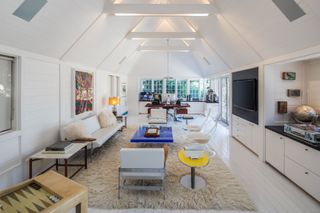 Overall, though, the effect is tasteful if unusual: part Tudor mansion, part Provencal villa. For our money, the lounge that opens onto the pool area is the prettiest, with folding doors that create an airy, indoor-outdoor feel. The place actually looks rather like a normal home, with understated decor and well-proportioned rooms that feel cosy rather than overly grand. Whoever's bought this house has bagged themselves a bargain (well, by Beverly Hills standards).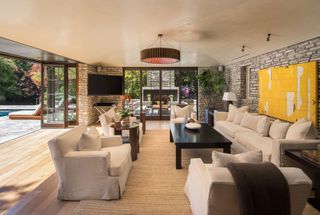 Read more: