Looking to spend your money on a storage ottoman? Smart idea! Especially if you have a small amount of space to work with, and definitely if you want a tidy looking home (who doesn't?).
Whether your new storage ottoman will live in your hallway to store the family's shoes, or in your bedroom to hide your spare bed linen... maybe it will be an addition to the kids' playroom for their toys? Either way, this piece of furniture doubles as a seat and storage – for space-savvy budget-friendly homeowners. No need to spend your money on a storage box and a chair, or to try and store them separately, either.
Keep scrolling for the Real Homes edit of the best storage ottomans under £100 (okay, there's one over £100). To maximise space in your small home – or if you have a few too many pairs of shoes.
See our small living room ideas page for more useful hacks on where to place furniture in smaller homes – and what else you need to invest in.
6 storage ottomans to help maximise space in tiny homes
1. Buy this faux leather one (which is also foldable) for modern homes
(opens in new tab)
Upholstered in a faux leather so perfect for modern homes, this storage-savvy ottoman has a hidden lid which comes off to store anything from cushions to shoes and toys inside. With a buttoned top to add elegance, it even folds away if you just want it for sporadic use.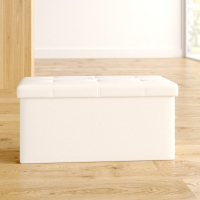 (opens in new tab)
Zipcode Design French Storage Ottoman | £32.99 at Wayfair (opens in new tab)
This storage ottoman comes in white or brown, and it has a weight capacity of a heavy 150kg – especially impressive since it's foldable. It measures 76cm wide and 38cm deep as well as 38cm high.
2. This polka dot storage ottoman – perfect for the kids' room
(opens in new tab)
We love this polka dot print storage ottoman – though small, it'll prove handy for storing the kids' toys coats, or shoes. It has a hinge for easy opening and closing, and at 44cm high it's the perfect size for little ones to sit, too. It's the perfect addition to an otherwise empty corner, and it's great for hiding those not-so Instagrammable toys.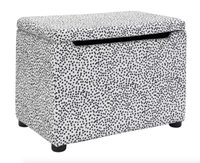 (opens in new tab)
Argos Home Skandi Small Dot Ottoman | £45 at Argos (opens in new tab)
This compact storage ottoman weighs 7.4kg and it measures 58.5cm wide and 39cm deep. A great buy for a playroom or nursery...
3. Choose this blue velvet rectangular storage ottoman to add a pop of colour
(opens in new tab)
If you have a certain space you need to fill – perhaps a tiny corner, or a section of a room – then this rectangular ottoman will suit. It would also look great placed at the end of a bed. Not only is it deep, but it features a super thick top to make it comfortable to sit on. No matter if that's for when you are tying your shoes or folding laundry. The striking blue colour will add a pop to a neural room, and obviously it's velvet because that is so in right now.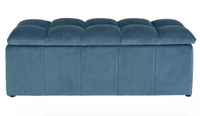 (opens in new tab)
Argos Home Maisie Velvet Ottoman | £77.99 at Argos (opens in new tab)
The Maisie ottoman from Argos arrives fully assembled, ready to be filled with the things you want to hide. It measures 40cm high, 110cm wide and 45cm deep.
4. Buy this large storage ottoman for a living room – as an extra seat and cushion and throw storage
(opens in new tab)
This large beauty would make a lovely addition to a living room. Get rid of that old coffee table and replace it with this comfortable ottoman, which also doubles as storage for your cushions, as well as somewhere to pop your feet up – and another seat (or three). It's upholstered in velvet and comes in a range of dreamy colours – the copper velvet one is our fave by far.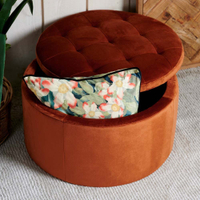 (opens in new tab)
Woods Furniture Ruby Storage Ottoman | £119.99 £95.99 at Woods Furniture (opens in new tab)
Measuring 36cm high and 60cm round, this lovely large ottoman has a liftable lid for your storage purposes. With a plush buttoned top, it's definitely not a case of practicality over style here.
5. We love this pleated storage ottoman for adding a touch of elegance to your rooms
(opens in new tab)
Make a statement with this super affordable storage ottoman – we can't quite believe it is under £99! It comes in teal, blush and champagne, and it boasts a foam-filled removable lid that's hidden – your guests would never even know that this stylish seat doubles as storage. It's also mega deep, and if you feel like your home needs a touch of chic, then rest assured that the pleats of this ottoman will get you there.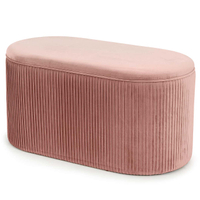 (opens in new tab)
Eloise Velvet Pleated Ottoman | £99 at Dunelm (opens in new tab)
Curved, deep and comfortable, this storage ottoman might just be our favourite on this list. It's also very compact, measuring 40cm high, 80cm wide and 40cm deep. Perfect for smaller bedrooms...
6. Blowing your budget? Check out this lovely storage ottoman which is *slightly* over £100
(opens in new tab)
If you are after a storage ottoman with feature legs to make it look more like a bench, then this is the option for you. Sure, it's over our £100 budget – but it is super popular and for good reason, too. It's well made, has a plush buttoned top and it features hinges and carved wooden legs make it look 10 times more expensive than it truly is.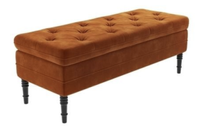 (opens in new tab)
Safina Ottoman Storage Bench in Burnt Orange Velvet with Button Detail | £309.97 £209.97 (save £100) at Furniture 123 (opens in new tab)
Available in your choice of nine colours, this ottoman is a tidy person's dream. It has lots of storage space, it looks good and currently, it has £100 off. Winning. Oh, and there's free delivery!