Shea McGee has told us how she lays her table for Christmas – and we've been taking notes. Whether you're planning a big family get-together or an intimate affair, a few thoughtful touches make Christmas dinner feel so much more special.
When it comes to how to set a table for an occasion there's a balance to strike between making it look pretty and ending up with something cluttered. According to Shea McGee, it's all about adding flair with 'table jewelry'.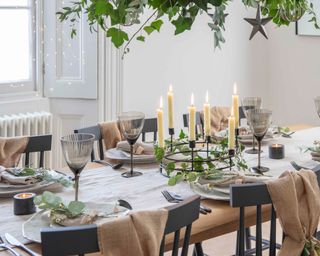 Shea McGee is a celebrity interior designer and entrepreneur from Texas. The author, mom, and TV host will be back on our screens next year for a much-anticipated new season of Dream Home Makeover on Netflix.
Shea McGee's table jewelry tip
When we asked Shea about her process for making a Christmas tablescape, she first mentioned the importance of layering. 'Set the scene with a pretty tablecloth and textural placemats, add the serveware and detailed napkins,' Shea begins.
'Layer in accents or "table jewelry" like napkin rings, name cards, taper candles, and of course, florals and greenery!' she adds. So when planning your Christmas tablescape, don't forget smaller accent pieces for a final festive flourish.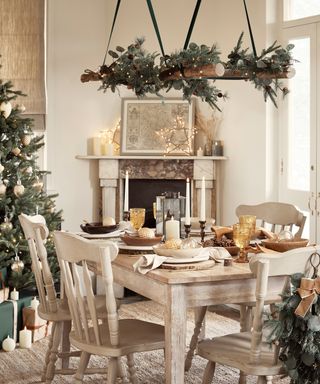 Your table jewelry could simply be a pair of taper candles sitting in lovely vintage glass or silver holders surrounded by some seasonal greenery. Or you could pick up some delicate string lights, at Amazon and weave them down the center of the table, making your knives, forks, and other metal materials glimmer.
Small accents elevate a Christmas table setting and make sitting down for dinner feel a little more celebratory. For our table jewelry, we'd thread some small branches from the Christmas tree and a sprig of eucalyptus through some copper tone napkin holders and make cute hand-written name cards.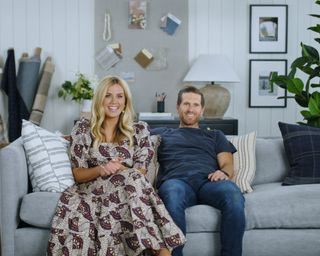 As you would when choosing a Christmas outfit, think about finishing touches and accessories when laying the table. If you're worried about overcrowding a small table, some simple brushed gold napkin rings, at Amazon, are sure to bring warmth and glamour.
Don't forget the foundation: a tablecloth protects your best dining table and softens the look. Then, once you have your flatware, napkins, cutlery, and glasses, it's time to accessorize.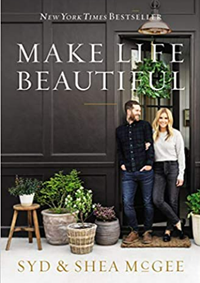 Shea McGee and husband Syd reveal how they built their business - from broke to design superstars, all while following the motto to 'make life beautiful.'