We all know that finding your interior design style makes decorating decisions so much easier. Once you've worked out that you're more 70s boho than sleek industrial, it narrows down your choices massively.
But it can be so refreshing to shake things up once in a while, injecting a 'disruptor' home decor trend into your styling – as interior designer Shea McGee is doing this year. The Texan designer is best known for the house flipping show Dream Home Makeover on Netflix (if you've not watched it, you must).
The serial renovator reveals that in 2022, she's branching out from the 'classic modern rustic' look she's famous for, and embracing romantic textures and patterns with elaborate finishes.
Shea McGee on the decorative home decor trend she'll be embracing in 2022
'I'm excited to lean into more romantic textures and prints,' says Shea McGee. 'Like ruffles, scallops, floral patterns, and even fringe in the upcoming year.'
The interior designer says she'll be using these more feminine textures and silhouettes 'on everything from bedding to styling accessories.' Perhaps Shea has been influenced by the ever-popular cottagecore ideas on social media, which encapsulate a romanticized depiction of a rural lifestyle.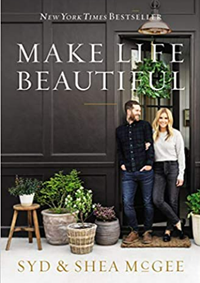 Shea McGee and husband Syd reveal how they built their business from flat-out broke to design superstars, all while following their motto to 'make life beautiful.'
Or maybe she is simply a secret Bridgerton fan. Either way, ruffles, florals and scallops all conjure up a regency era style in our minds.
And a touch of these decorative shapes and floral patterns will go a long way if you want a softer, prettier look in your home. If you're feeling inspired to welcome in some frills into your bedroom ideas, there are plenty of ruffled bedding options on Wayfair.
The no-frills designs Shea McGee creates for her clients on Dream Home Makeover are characterized by clean lines, light, bright spaces and a beautiful layering of natural materials, like wicker, wood, rattan and linens. We'll be keeping an eye out for subtle chintz, ruffles and scallops in season two...