Wallpapered accent walls have been a nursery design trend for a years now. In fact, we think it's fair to say they're pretty much ubiquitous. As much as we love a wallpaper moment, especially when it's framing a sweet little crib, it's also fun to see new takes on the feature wall idea. Enter: One seriously adorable wooden accent wall created by DIYer Kyle Ott for her young daughter.
Ott and her husband, who moved into a new home last June, decided to tackle their daughter's room as their first project in their new space. "My daughter's birthday was coming up and I couldn't think of a better way to celebrate her first year of life then to gift her a dreamy space for a little girl," Ott says. Taking a cue from a post she'd seen on Instagram, she pulled off the dramatic transformation, including the bamboo-look wooden feature wall, in just nine days. Plus, she did it all using inexpensive building materials from a local big box store.
Read on for their design process, plus how they created their lovely accent wall, and total cost, below.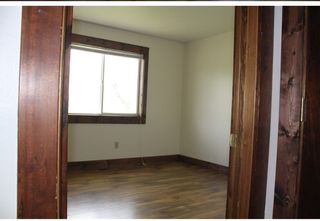 Before these crafty parents embarked on their nursery DIY mission they were looking at a dark room that was lacking love. With a natural eye for design, they saw potential due to it being a sun-facing room with a huge window. "I knew it needed to be brightened and turned into a unique space that my daughter would love," says Ott.
The mom admitted that when she first revealed her plan for the feature wall, her husband was hesitant, "but as we got up one piece of wood after another it just became this masterpiece and a focal point of the room."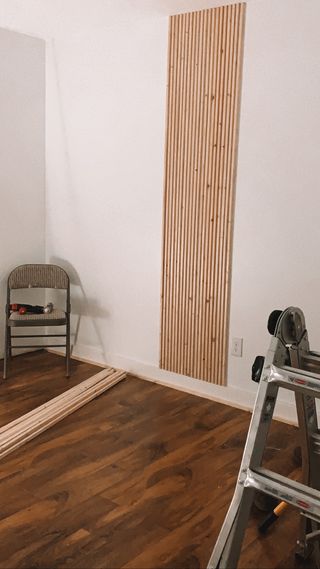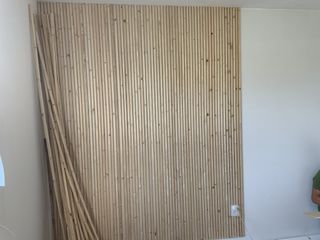 So, how did they do it?
While the wall make look like bamboo on first glance, it's actually simple pine board from a big box hardware store. The couple bought enough boards to cover the wall, and cut them down to size. "We used 1"x2"x8' pine boards and ripped the width down in half to about 3/4"," Ott explains.
Next, they simply just pin nailed all of the boards to the wall, using a level and spacer that they had created themselves to make sure it all looked uniform. It really is as easy as that!
"We originally planned to use liquid nails and pin nails but we quickly learned that by using liquid nails it would ooze out the sides and it would make it really difficult to go back through and clean that up just due to the very small space between the boards" explained the DIY-savvy mom.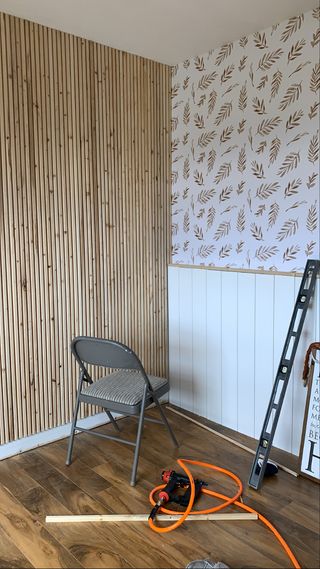 They also refreshed the other walls in the nursery with some gorgeous gold accented peel-and-stick wallpaper from Etsy combined with beautiful white wood paneling that the couple again did themselves. The half wall shiplapping effect is to die for, stacked vertically in this case, complementing the feature wall.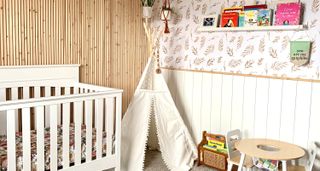 The couple finished off the space with existing nursery furniture and a few fun new additions, like the teepee in the corner and shelves to hold favorite books.
"I always wanted a space for my daughter's room where she could dig into her books and find adventure in learning new things. So the book shelf wall, wood book holder on the ground and her teepee are so special to me as well. They give off such a special and inviting vibe when I sit in there and I'm hoping it does for my daughter as well!"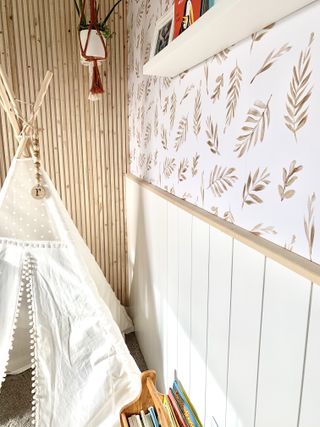 The total cost for the wood for both accent walls, and the wallpaper? Under $500. Ott says the wallpaper was a spurge, however, and that the cost could be kept even lower with a less expensive paper or paint instead.
If you're feeling inspired you should definitely head over to our dedicated DIY hub where we share loads of helpful how-to's!
Oh and we also have a roundup of brilliant ideas for colour schemes if you're decorating your kid's bedroom but aren't mad on white and gold!
Plus we took a look at the best and worst colours to use for your home office, and it's bad news for grey lovers...