Struggle to make it through a meal without dropping food down yourself? We feel your pain. That's why we've put three stain removers to the test on some of the most common spills – red wine, coffee, curry sauce and tomato sauce. You can watch the test on the latest episode of the Real Homes Show, or take a look at our findings below.
For the best way to remove stains from every surface, including carpets, mattresses and toilets, check out our ultimate stain removing guide.
The contenders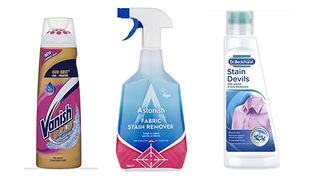 Astonish Fabric Stain Remover RRP £1 for 750ml – Use the spray nozzle to apply to both sides of the stain, leave for 10 minutes and then wash as normal. The only one of our trio that can be used on silk and other delicate fabrics.
Dr Beckmann Pre Wash Stain Devils RRP £2.39 for 200ml – Apply to the stain using the soft brush applicator and leave for 10-15mins before washing as normal. Claims to work on short washes and at low temperatures.
Vanish Gold PowerGel RRP £3.50 for 200ml – Apply to stain in circular motions using the head applicator. Leave for five mins and wash as normal. Claims to remove some stains, such as red wine and soy sauce in just 30 seconds.
The stain remover test
We took three white cotton T-shirts and applied coffee, red wine, curry sauce and tomato pasta sauce stains. To make the test really tough, we left the stains for an hour before treating them (well, you can't always get your stain remover our in a restaurant!). We then popped the T-shirts on a 45-minute 30-degree wash and waited to see the results.
TOP TIP: If you're getting stains out of a coloured item of clothing, make sure you test the stain remover on a hidden area before you apply it to the actual food spill to check it doesn't strip the colour.
The results
We were amazed to find that all three stain removers performed almost identically, despite the price difference. They all got rid of the coffee and red wine stains completely, and left only a very faint trace of tomato pasta sauce. It means the £1 Astonish Fabric Stain Remover (750ml) performed just as well as the £3.50 Vanish Gold Power Gel (200ml).
Curry sauce was where they all struggled, and there were clear orange marks left on all three T-shirts. If you love a curry (and don't want to wear a bib), then we'd suggest you try a homemade remedy for any stains. Mix a tablespoon of liquid hand dishwashing detergent with one tablespoon of white vinegar with two cups of warm water and apply with a cloth.
Which stain remover should you choose?
If you want one product that can deal with most food stains quickly and efficiently, then buy a bottle of the Astonish Fabric Stain Remover for just £1. For the best results, use a clean cloth or remove any lumps and then apply the stain remover as soon as possible (always before it has dried). Then maybe just avoid curries for a while...
Check out these related articles: