We love bringing you low cost, high impact makeovers, but this one even had us impressed, as it cost less than a tenner!
Creative Jessica Rowlands, who turned to DIY projects as a way to cope after a cancer diagnosis, has pulled off one of the best bargain redecorations we have seen. She routed out spiders and invested in flooring from Poundland in order to make this simple yet oh-so-stylish monochrome reception area for £8, and we are seriously impressed with the results.
Jessica shares her DIY hacks and improvements on her instagram – @rentingat37 (her upcycle of a bedside table with lollipop sticks is another good one!). We caught up with her to chat about her cost-saving do-over.
The before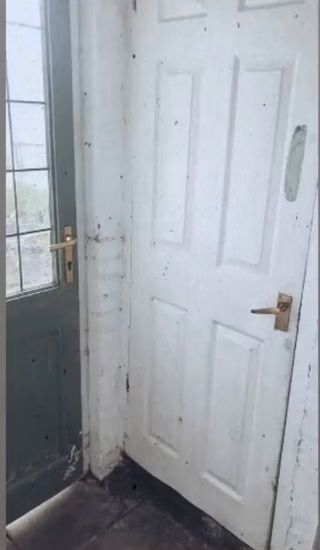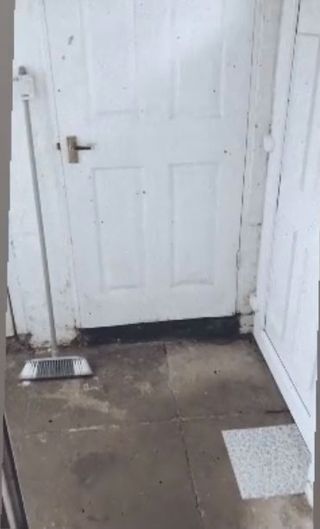 Jessica, who is 29 and a recruitment manager, lives in her three-bedroom 1940s semi on the Wirral in Merseyside, with her six-year-old daughter. Though she is renting the house, her landlord is happy to let her make changes to the property and to decorate.
'I have been in this house for coming up to six years now and have a brilliant relationship with my landlord,' she says. 'I am very lucky in the sense that they let me have free rein on the house and improvements. I do try and make sure that any of my changes are reversible, so that if I do ever decide to move out its nothing too drastic to change. This is why I use adhesive tiles etc.'
The area she was determined to improve was the unwelcoming porch which was only appealing to eight-legged visitors. 'It is a front door, back door, utility space and outdoor toilet all in one. It has always been unused and more of just a cut through to the garden and kitchen. I really hated it though it was covered in spiders and just felt like it wasn't part of the house and brought the whole house down.'
The process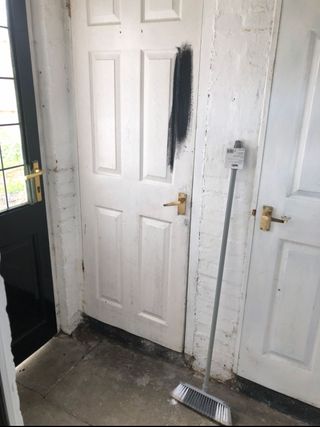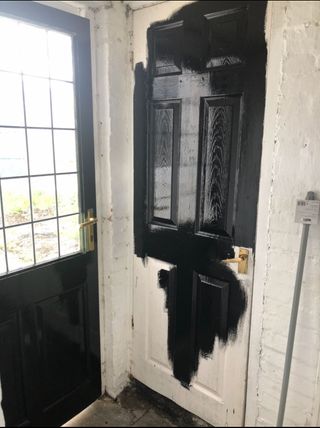 Jessica was determined to close down the arachnid hotel and turn it into a more user (and human) friendly space to receive guests, which she did with some leftover paint and by investing in new flooring.

'I started off by clearing the space (spiders included), I repainted the doors black used Johnstone's Matt Black paint for the doors which I already had in but cost £9.99 from The Range originally. I also touched up some of the masonry paint on the white walls.

'For the floor I used self-adhesive tiles which come in a packet of three for £1 from Poundland. I used eight packets so they cost me £8. The tiles were super easy to cut and lay, which made the whole makeover really quick and achievable.'
The details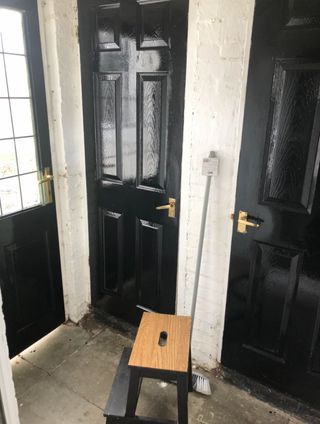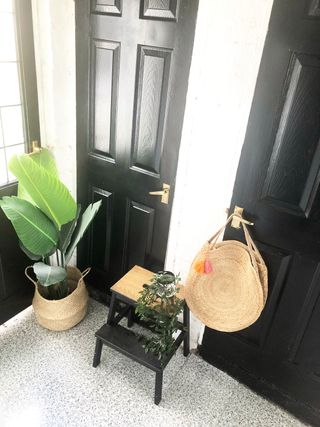 She completed the transformation in a day, adding some homely details with plants and accessories she already had, once the paint on the doors was dry. The finish is impressive, and not just because it is a job ticked off the to-do list.
Every makeover Jessica does shows off the skills she has learned since she started doing DIY after a cancer diagnosis back in 2018.
'I all of a sudden had the urge for everything to be different and my home needed to be my safe space during treatment,' she explains. 'Once my treatment was completed and I got the all clear, I just carried on picking up the paintbrush and couldn't stop.
'I started following a few interior accounts from my personal Instagram and decided to start up my own to document the process of redecorating my rented home. Interiors and decorating have been an outlet for me, creating spaces in my home that I love gives me such a buzz, and being able to do that on a budget as a single parent makes me even happier.
'I never anticipated it to continue the way it has and for people to watch and get involved with my journey, but I am loving every minute of it.'
And we are loving your work, Jessica!