If you love coffee and you're style-conscious (of course you are, you're on Realhomes.com) then you'll love to hear that there is a new filter coffee machine in town: introducing the Smeg DCF02 Drip Filter Coffee Machine.
This is Smeg's latest addition to their stunning range of '50s retro style appliances, and is one which can be mixed-and-matched to your kettle or toaster (or any other small appliance in the brand's existing range) for a rather colourful kitchen set up.
Keep scrolling to get this fab buy at today's very best price (thanks to our super smart shopping widgety-thing) and to find out if this Smeg coffee machine is your ideal companion for a hard day at work. Head over to our buying guide of the best coffee machines to see more top buys, too.
The luxury Italian brand have crafted this coffee machine to add a pop of colour and style into your morning routine, and also a hit of caffeine with authentic taste. Although compact in size, it comes with a generous 10-cup carafe and a 1.2 litre water tank which can be easily topped up so the coffee machine can pick up where you left off.
Encased in a smart metal housing, this Smeg coffee machine boasts a really simple control panel with clear buttons to fire it up. The design has even worked in a clever de-calc alarm system to let you know when cleaning is required, and an anti-drip value to save wasted of the precious drink.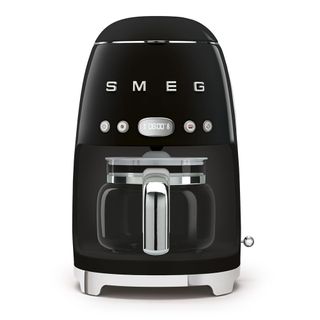 We're really looking forward to testing this new Smeg coffee machine but if you can't resist the excitement of this news, you can pick one up to buy in six delightful colour options – pastel blue, pastel green, red, black and cream, alongside a striking new crisp white hue – to co-ordinate with your other items in the Smeg range.
Read more: