It all started when I designed a beach-themed bedroom for my daughter in dusty blue-greens and pinks, using an expansive beach-and-waves print as my inspiration.
After installing a board and batten wall treatment on two opposite walls, I decided on a pale gray-blue paint color, and I DIY'ed faint pink horizontal stripes (mimicking ocean surf) on the wall above her bed.
The result? After living with plain boring white walls this was a definite improvement and everyone was happy! For a time, at least.
Keep reading: 51 bedroom ideas, trends, and styling tips to create the perfect space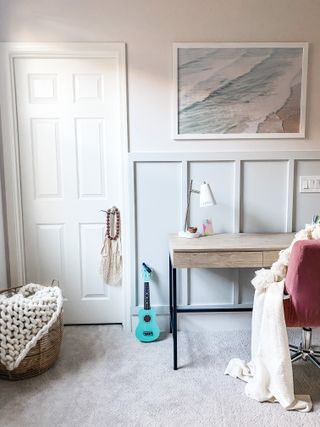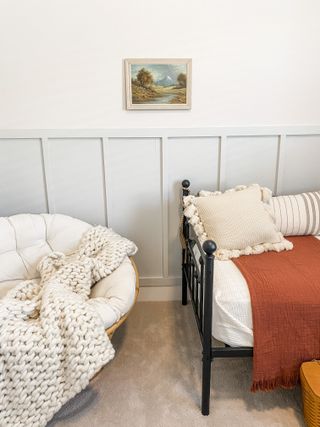 After a few months of living with this design, my daughter started mentioning how she really loved the white board and batten that she was seeing in all the modern farmhouse inspiration pictures on Pinterest. This went on consistently for several more months, until I finally realized I might have to go back to the drawing board for her room design.
(Here's a friendly tip for all parents out there: be sure to choose a color scheme and design for the actual person living in the room AND be sure they are a part of the process and decision-making.)
Another thing I'll mention is this all happened in a period of time where I had a young girl who was soon entering her tween years and being heard, above all else, was most important.
She wanted a neutral room, and something a little more mature. And eventually, I agreed. I started the decorating process again, by emptying the room, laying plastic sheeting on the carpet, and taping off the walls with the board and batten. After sanding to roughen up the surface of the current paint and wiping it clean with a tack cloth, I sprayed the wall treatment with "Snowbound" by Sherwin-Williams.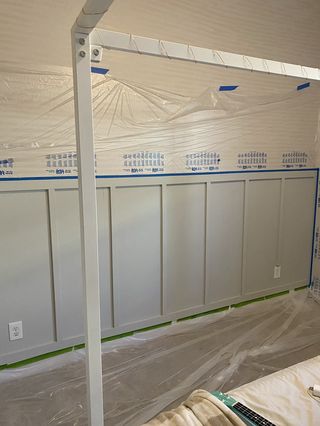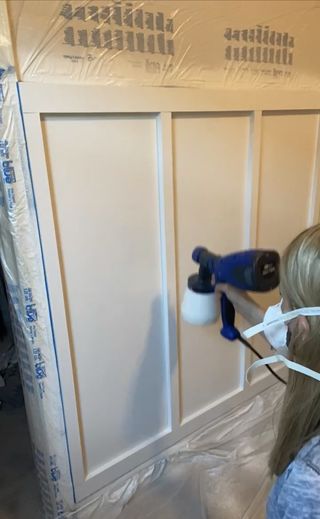 I used a paint containing a primer so I could happily skip that step. What a difference this white paint made to the tone of the room … it was much cleaner and brighter. I then found a gorgeous neutral peel and stick wallpaper from Urbanwalls called "Silver Ficus" to cover up the pink stripes above her bed. We replaced her black daybed with a white canopy bed and (obviously) wrapped the metal railings with twinkle lights.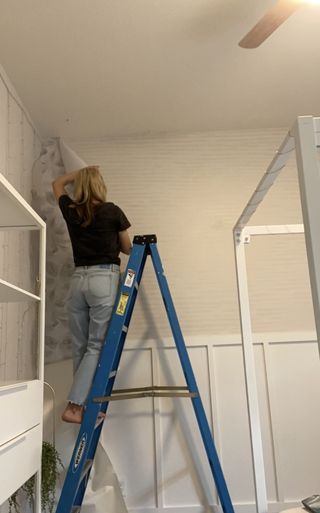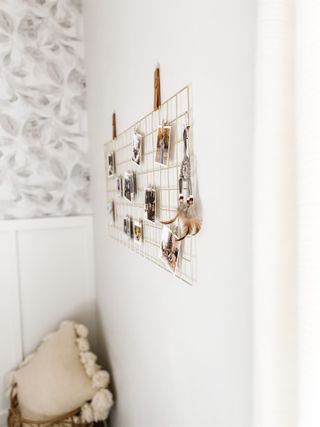 After a quick restyling of her desk and shelf, removing most color and using wood tones, weaved baskets, and greenery we had a neutrally grown up space that was perfect for its occupant.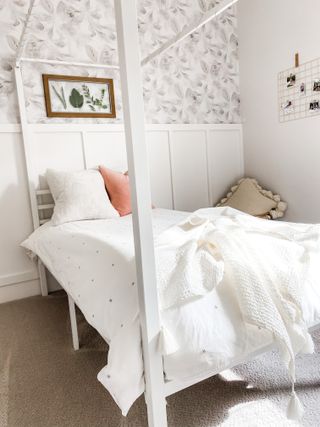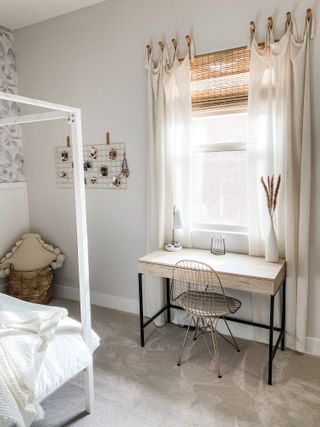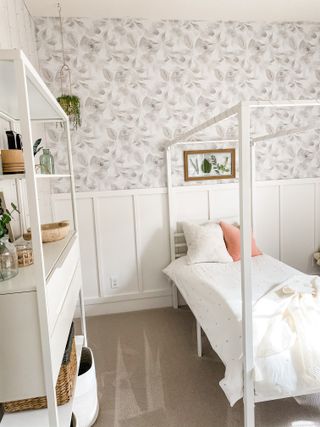 She loves it and to be honest, I do too! A little bit of work and a lesson learned and we were all happy for it.