At the risk of sounding dramatic, an espresso machine is the key for a productive workday at home. Whether you need an extra boost after burning the midnight oil the night before or are looking for a semblance of normalcy in your morning routine, a great espresso machine is the gift that keeps on giving. (After all, who wants to wait in a long line and pay top dollar at a café when you can save time and money at home?)
If you're looking to pick up a great espresso machine, but don't necessarily want to spend a small fortune, you're in luck: Right now, Amazon is slashing the price of De'Longhi's beloved espresso machines.
Founded in 1902 in Italy, which is basically the espresso capital of the world, De'Longhi has a long-standing reputation for making high-quality machines that turn out delicious caffeine time and time again. But while De'Longhi makes some of the best espresso machines around, they're known for being a little pricey. But, thanks to Amazon's secret sale, you can score a great espresso maker for less.
Check out a few of our favorite deals below.
Looking for the best coffee maker? Check out our guide.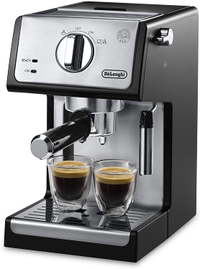 (opens in new tab)
De'Longhi ECP3420 Bar Pump Espresso and Cappuccino Machine|Was $209.95, now $122.99 (opens in new tab)
Decked out with professional-grade 15-bar pressure, this option from De'Longhi is like having a professional barista in your kitchen. Perfect for espresso shots, cappuccinos, and lattes, this model boasts a dual-brewing system so you can have a jolt of caffeine in no time. Plus, it's three-in-one filter holder has ample room for up to two cups worth of espresso. Best of all? This espresso machine is also compatible with convenient, pre-packaged pods. So if you're short on time but need a quick fix, this option will deliver.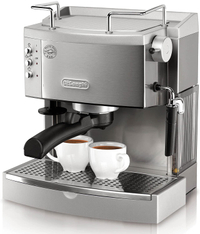 (opens in new tab)
De'Longhi EC702 15-Bar-Pump Espresso Maker|Was $279.95, now $175.96 (opens in new tab)
Want to take your espresso to the next level? Get your hands on this upgraded option. In true De'Longhi fashion, this espresso machine has a 15-bar pressure and patented filter holder to make whipping up delicious java a breeze. However, the magic of this model lies in its advanced frother, which will make steaming up milk a lot easier.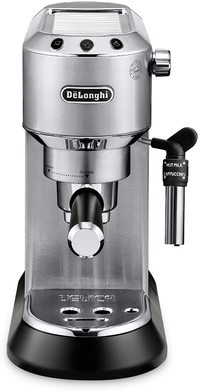 (opens in new tab)
De'Longhi America EC685M Dedica Deluxe Espresso|Was $349.95, now $319.95 (opens in new tab)
Always dreamt of having your own espresso machine, but didn't think you had the counter space? Enter the De'Longhi America EC685M Dedica Deluxe Espresso machine. Here, De'Longhi reimagined all the bells and whistles of their beloved espresso machine into a slim, compact design (Small space dwellers, rejoice!) And, at $30 off the asking price, this pick is great for your wallet, too.
Keep reading: