Ahhh, the lovely Monty Don, and his amazing garden, which is the star of one of our favourite Instagram feeds. Monty doesn't tend to wax lyrical about his garden on Insta, preferring to write a simple caption and let the pictures do the talking. Which only makes us look harder.
A few weeks ago we spotted a picture of his pergola and thought we'd share it with you as a great idea to copy for your own garden at home. In fact, there are (sort of) two pergolas, and both are traditional in as much as they have pretty flowers trained up them, but both are also highly unusual in the materials they're made from.
Keep scrolling to find out more, and for more garden ideas, don't miss our dedicated feature.
Love Monty Don? Buy his books for more great tips and advice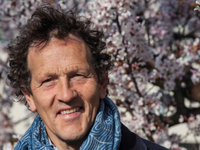 The Complete Gardener is a must-read for anyone who wants to learn how to garden. In it, he reveals the secrets of growing vegetables, fruits, flowers, and herbs while respecting the needs of the environment by gardening organically.
Japanese Gardens – A Journey is the complement to the BBC2 series, Japanese Gardens, and has over 200 original photographs from Derry Moore. In it, Monty Don takes a look at the traditions and culture which inform some of the most beautiful gardens from all over Japan.
My Garden World: the natural year is Monty Don's personal journey through the natural year, month by month, season by season, observed from the immediate world around him.
Now take a peek at Monty Don's genius pergola
Monty's small pergola (above and below) has been cleverly created with offcuts of tree trunks and branches, with slim but sturdy trunks as the uprights and more delicate branches to create the 'ceiling'. Pretty climbing roses and wisteria are trained up the uprights to create a natural, appealing look. Don't have your own trees to use? Speak to a timber yard or agricultural supplier. You can also find old telegraph poles for sale on eBay, which can be securely cemented into the ground.
Monty's larger pergola (below) has actually been constructed with living, espaliered trees – we're calling it a pergola, it's more of a sheltering wall of green. Yet another clever way of creating shelter in a natural way that looks beautiful and encourages wildlife. We love your work, Monty!