We've all been battling the lockdown blues and missing the chance to escape to sunnier, more exotic climes.
Colour-loving Lauren Hubbard found a way to banish hers by transforming her bland, beige bathroom into a patterned paradise with a Miami vibe – and she did it for just £350! Bold, bright and fun, it turns every trip to wash your hands into a candy-coloured, neon-lit adventure.
And enterprising Lauren was so inspired by her maximalist makeover, she actually started an online shop, Get Kooky, selling the self-adhesive vinyl prints she used to do it after being furloughed from her job as an events manager for an upmarket hotel/pub. We caught up with her to hear how to make a big impact on a small budget.
The before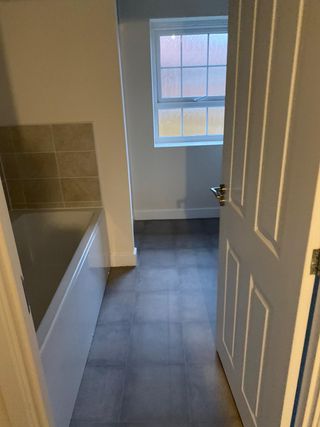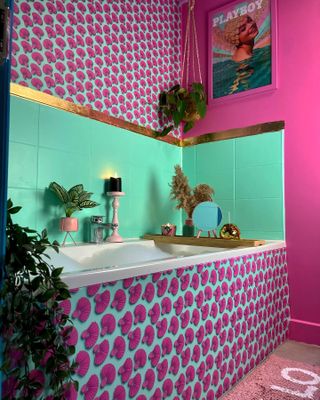 Lauren and her partner, Rich, moved into their home on the outskirts of Hull in East Yorkshire, with their two young children, just before the pandemic hit.
They had relocated from London back to the area where Rich had grown up. Previously they had rented, but the couple bought a new-build home which they could finally put their stamp on. 'As soon as I saw this house, I could see the potential of being able to impose my own style upon it and could begin immediately with no outlay for repairs and renovations,' says Lauren.
She and Rich spent their time in lockdown transforming it; eking out their budget and making it stretch as far as they could as they revamped the whole house. Lauren recorded it all on her Instagram, @homeofgetkooky, to show their progress to family and friends who couldn't visit.
'It has been a gradual process. We are decorating slowly as and when we can afford to do it as we don't have the capital for big payouts,' she says. 'It has cost £10,000 so far, but a large amount of that is furniture, and we were basically starting from scratch after always renting. As for the décor, that has only cost around £1,500, which went on paint, my own vinyl and accessories.'
The process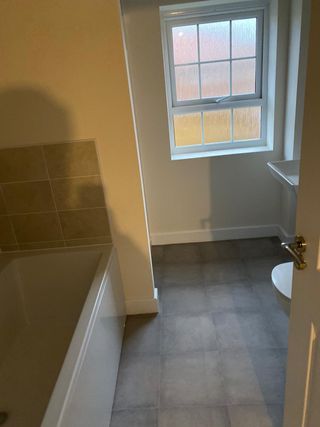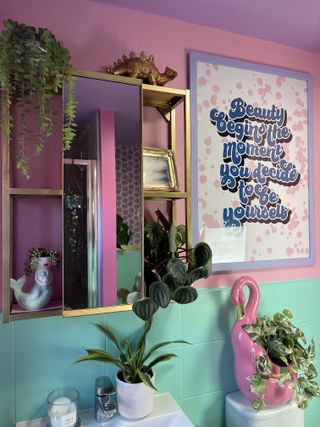 'Our bathroom has had a complete makeover and looks like a completely different space. Including all the accessories, it only cost £350!' says Lauren.
'I wanted a Miami vibe bathroom, probably because during this pandemic I have been craving going abroad and holidaying in the sun, so I recreated my own paradise to escape to.
'Pink and green is my absolute favourite combo. Gone are the days of "Pink and green should never be seen" – I think they contrast but at the same time complement each other. I knew the kids would love the nice bright colours; equally, it's perfect to wind down with a soak and some candles after a busy day.'
'Colours impact greatly on our mood. We don't always get the best summers in this country, so bringing bright colours into our homes, particularly into those rooms we use a lot on a daily basis, can brighten even the dullest of days. It can bring a sense of summer inside and really lift our spirits. That might be particularly appropriate this year as many people are opting for staycations rather than going abroad.'
Her vibrant choices are spot on for the season, according to research carried out by Insulation Express. Property expert Jenny Turner said: 'Warm, exotic shades of pink, pale pink, and mint green are on trend this summer 2021.
'Lauren is a great example of how these bright and summery colours can be paired with shades of grey and black, which are popular all-year-round, to transform your home massively from something boring and bland to wonderfully shocking.'
The details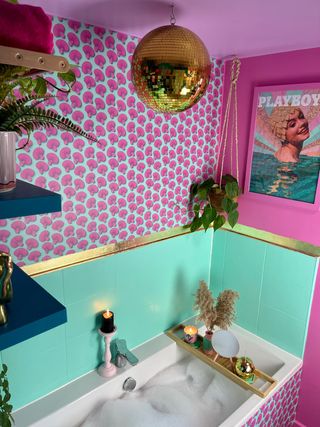 When she was furloughed from her job as an events manager for an upmarket hotel/pub in Central London, Lauren was inspired to start her new business, Get Kooky, selling the self-adhesive decorative vinyl she'd found so useful in creating her spectacular room schemes.
'The idea for the brand came about as a result of moving to a new-build home and the urgent need to eliminate all traces of standard-issue magnolia,' she says.
'We lived many years in a rented property that we were always afraid to touch. Had I known of this product, it would have allowed us to have quickly and easily put our own stamp on our homes knowing that when it came to leaving, I could remove it causing minimal damage without upsetting the landlord or risking our deposit.
'I'm fearless when it comes to interior design. I love vibrant colours, patterns, bold designs and I am very experimental. Getting maximum effect for the least money possible. I am not afraid to try different combinations – if they don't work you can always change them!'
How she did it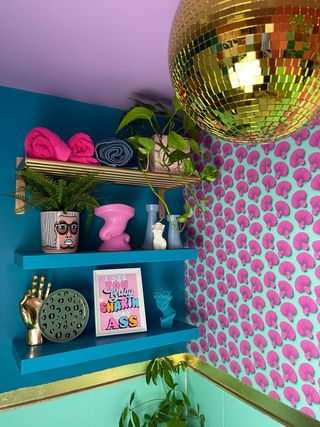 'The cost of the bathroom renovation totalled £350,' says Lauren. 'The tiles cost just under £60 and that included primer, colour and a tile sealer. For the window paint and wall paint it set me back £47, and the vinyl which was used on the walls and bath panel was £23 a metre from Get Kooky. My units and shelving cost £75, and the beautiful prints I have on these totalled £23, which is quite a bargain for prints these days.
' As for the accessories I have styled around the bathroom I spent a total of £118. My vase and coasters were from Love at Number 18 (£20); I got a bouquet of dried flowers (£25); a candelabra from Wild One Interiors (£38); Annie Sloan's gold leaf (£5.95) which was used as a border above the bathroom tiles, and to finish this quirky room off, I got an iconic disco ball from Amazon (£28.95). All other accessories were ones I already owned, such as the plants, but you can get very affordable faux plants at your nearest bargain store.'