As all Marie Kondo fans know, you should discard before you organize. If you practise the KonMari method, then these creative office wall organization ideas are sure to impress, and they might even help you let go of some of the items you've accumulated – for a more clutter-free WFH life.
If, like us, you became addicted to Marie's decluttering and tidying when she first appeared on our TV screens, and never miss an Insta post, you will know that living a Marie Kondo-inspired life requires that you hang on to only the things that bring you joy. And who would quibble with that? Certainly not us.
But is it the case that some of us need more joy-sparking stuff around us than others – especially when we're WFH or have a home workspace for projects like writing, drawing, crafting and so on? The way to find out, Marie says, is by doing the tidying and organizing, which will allow you to discover what kind of office space will spark joy in you, to help your creativity bloom.
The home office space Marie shared on Insta definitely looks like one for those who need plenty of inspiration around them, and if you're in that camp (along with 100 per cent of the Real Homes team, we have to say), we've found some brilliant home office storage ideas and display solutions so you can follow suit.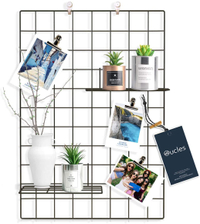 (opens in new tab)
Oucles Grid Panel | £16.99 (opens in new tab)
Keep images in your eye line while you're at your desk with this grid panel. You'll actually get a set of two, so there's plenty of space for joy-sparking pictures and photos. It's made from metal with a black coating.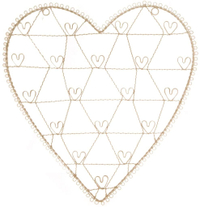 (opens in new tab)
Sass & Belle Vintage Wire Heart Photo Holder | £10.04 (opens in new tab)
It's your home office (with the emphasis on home), so why not opt for a cute design? This one has space for 19 postcards or photos for maximum visual inspiration.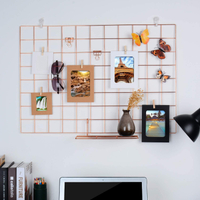 (opens in new tab)
Super V Rose Gold Wall Grid | £17.99 (opens in new tab)
Fan of the warm tones of rose gold? Then this grid will be right up your alley. It comes with 10 wooden clips to attach favourite pictures and cards, but if you want the basket, you'll need to order that separately.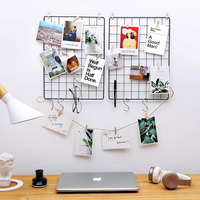 (opens in new tab)
SONGMICS Grid Panels | £13.99 (opens in new tab)
If you want to be able to hang items from the bottom of your wall display as well as position them on the grid, this could be a great choice as there are S hooks included. You'll get two panels in the set for a super-sized (and joy-bringing) arrangement.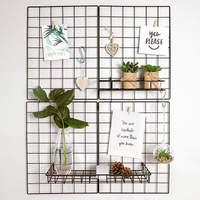 (opens in new tab)
Gadgy Foldable Wall Grid Decoration | £16.49 (opens in new tab)
You'll get 10 wooden clips, six metal hooks and two baskets for all your creativity-promoting items if you opt for this set of two grids. The panels are foldable, so they can be set on a table as an alternative to wall hanging.