New York City is known for being one of the most arduous and expensive housing markets in the United States. From the sky-high prices, to co-op building restrictions and small-space challenges, it's not for the faint of heart — which makes new listings like this one-bedroom condominium all the more surprising.
Located in Midtown — mere blocks from Broadway, Columbus Circle, Central Park and other New York City landmarks — this one-bedroom Manhattan apartment offers an enticing deal for potential buyers: It's listed at just $215,000.
The details
Address: 100 W 57th St #11R, New York, NY
Price: $215,000
Home Size: 900 square feet
Bedrooms: 1
Bathrooms: 1
Additional Amenities: Dining alcove can be converted to a 2nd bedroom, in-unit laundry
Its size alone, at 900+ square feet, would make many New Yorkers both astonished and perplexed, with the average one-bedroom Manhattan apartment typically amounting to 702 square feet.
Based in the infamous Carnegie House co-op, built in 1962, the space was recently renovated when listed in late July 2020; since going on the market, the price has dropped $84,000, making the space even more of a steal for first-time buyers.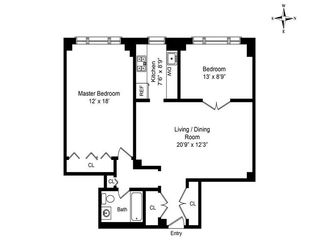 The home features perks that can be hard to come by in the New York City housing market. Residents can work in their double living room while having lunch and dinner breaks in a separate dining alcove, all before tucking in for the night in a 18x12 bedroom.
The home receives direct West light and views — perfect for morning Vinyasa sessions — and features wide plank oak flooring and base molding throughout.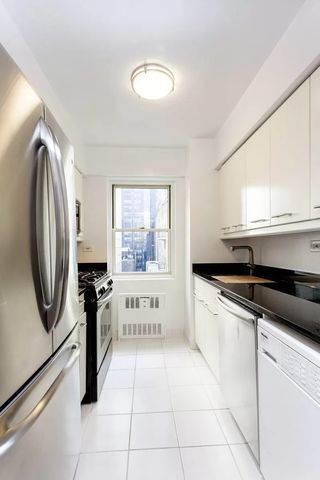 Additionally, the kitchen is fit for the finest of chefs — whether you're just starting out or have your own Michelin star — with stainless steel GE Profile and Bosch appliances, gleaming granite countertops, and customized cabinetry.
Other bonuses include a Miele Touchtronic washer/dryer, a dishwasher, a stunning spa bath, and four generous-sized closets.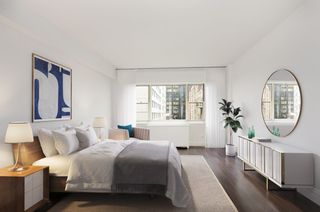 All of this could be a buyer's dream home for just $215,000, with an estimated mortgage at just over $3,000 per month after taxes and building fees.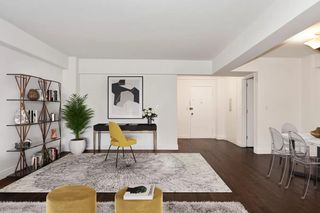 But, with a cost-effective price like this in one of the most glamorous cities in the world — let alone on Billionaire's Row — there's got to be a catch, right?
Prospective buyers beware: this property is on a land-lease.
Land leases are fairly uncommon in New York City, but not entirely out of the realm of possibility. As Ian Port explained for StreetEasy this past fall, land leases make up approximately 100 residential buildings throughout the five boroughs primarily in Manhattan, with higher concentrations in the Lincoln Square and Battery Park City neighborhoods.
Essentially, buildings on a land lease don't actually own the land they're built on. So, tenants pay a fee that's built-in to their association dues that covers the "rent" for the land. Every 90-100 years or so, the lease comes up for re-negotiation. If the land is re-assessed, the rent that's collected for the land can skyrocket. Or, if the landowner wants to sell the land, they can technically evict the building's tenants (though that's apparently never happened).
The price of this unit reflects the uncertainty around the land-lease, which is coming up for renewal. But, if you can deal with a bit of unknown? This could be the New York City real estate deal you've been waiting for.