The kitchen is easily the busiest room in the home, so to make life a little less hectic – and to make spending time in the kitchen more enjoyable – Magnet has partnered up with Samsung to introduce the new revolutionary Smart Kitchen.
'We know our customers need all the help they can get to make life more relaxed, particularly family life as it can get pretty hectic when everyone is together at home. A better-connected family starts with a better-connected kitchen, which is why we've partnered up with Samsung to offer a smart Magnet kitchen that fits our customers' lives and not just their kitchen,' says Hayley Simmons, head of merchandising at Magnet.
Innovations include ovens that notify your phone when dinner is ready, and fridges you can see inside from your mobile – more on that below:
1. The Smart fridge freezer
Ever brought home your weekly shop to find you have ended up buying double everything? Well, that's a thing of the past with this smart fridge freezer, which has built-in cameras. Peek inside your fridge from your phone and keep track of your stock of groceries and their expiry dates to help better organise your weekly shop. You can even buy groceries directly from the Family Hub touchscreen and stay on top of everyone's schedules with the live family calendar on the fridge door. Additionally, play music or mirror what's on the TV to carry on watching your favourite show and stay entertained while you serve up dinner.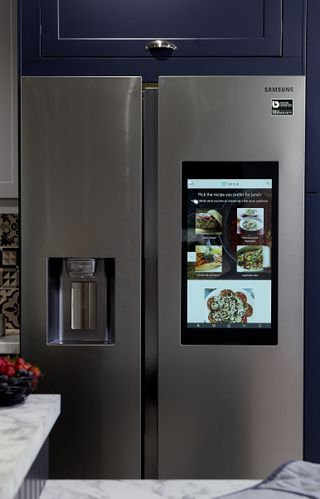 2. The Smart oven
Save time and energy with the Samsung connected multi-function oven that sends a notification to your phone when dinner is ready; the settings can be controlled remotely from your mobile, too, to take the stress out of cooking. Plus, with the 'Smart Things' app you can send recipes straight to your Magnet kitchen and share the instructions to your oven via Wi-Fi, taking the hassle out of meal planning.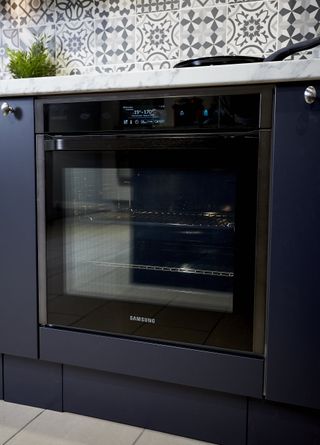 3. The Smart hob and hood
Stay in control with the Samsung hob and hood, equipped with Auto Connectivity technology meaning your hood turns on automatically when the hob is turned on.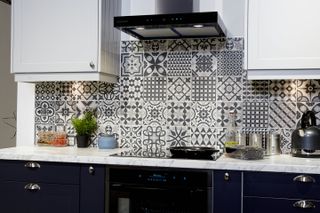 4. The Smart dishwasher
Clean up without chaos with the innovative WaterWall dishwasher. Its revolutionary sweeping wall of jet-powered water delivers super clean dishes, plus, it detects and diagnoses its own problems and notifies you of solutions via your phone.