Fed up of being in lockdown? Aren't we all. Times are tough right now, so it's more than normal to want to treat yourself to a pick-me-up, spoil a family member who is finding it hard to stay at home, or, to show a friend you care (from afar). How to do that? With this list of lockdown gifts that they'll be sure to love. We've collated some of the loveliest presents – not just your average tech item or gimmicky gift – and popped them below. These presents all say I love you, without actually saying it (you get what we mean). And they'll provide a special person with a huge virtual hug –imagine their face when they open what you've sent! If you're buying for yourself, you'll just have to pretend to be surprised.
Keep scrolling for 12 oh-so-lovely lockdown gifts to give in 2021.
Head to our dedicated shopping page to spend some more money.
1. Send a crafty family member this one-off box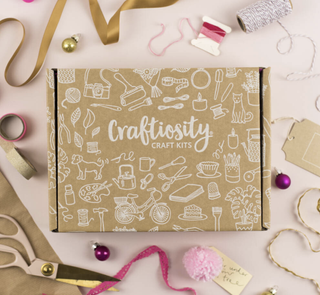 A craft care package is a lovely gift to send right now – what could be better than gifting a new hobby? Ideal for killing an hour or two in the evening and they end up with a very cute DIY craft at that they can show off on social media.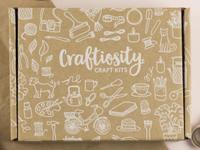 Gift A Craft Kit Subscription | £26.95 at Not on the High Street
You can buy a one-off Craftosity box or you can sign someone up to get a box for three or six months. Inside comes all of the tools, materials and step-by-step instructions to help them master it.
2. Gift some lovely biscuits to a foodie you can't wait to hug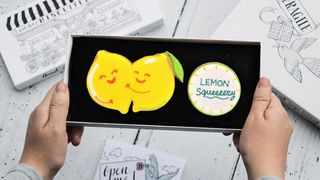 It's no secret that Biscuiteers make some of the tastiest bakes around. A bonus? They're letterbox-friendly. Not just that but who doesn't love a food-based gift, especially when it's oh-so Instagrammable. A lovely pick-me-up!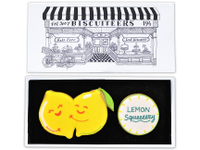 Biscuiteers lemon squeezy letterbox biscuits | £25 at Biscuiteers
These tasty biscuits can be sent to anywhere in the world, and they're lemon flavoured. You can add a gift message so they know who sent them, and they'll fit through a letterbox.

3. Buy a kindle for an elderly relative who still uses their local library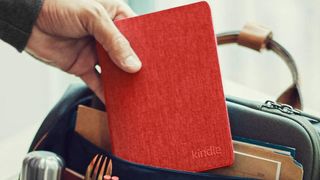 We all know someone who still gets their books from a library – or a person who refuses to do online shopping – so why not buy them a Kindle so they can read until their heart is content?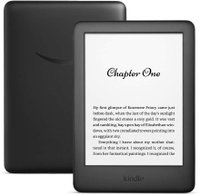 Kindle | £69.99 at Amazon
Because a Kindle is here when the library can't be, or if you don't have any more space on your bookshelf. You can read books from just 99p...
4. Send a cocktail-lover this porn star martini kit so they can bring the bar home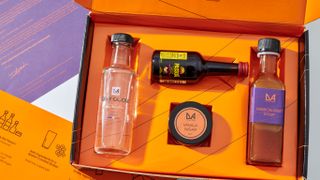 YES! Finally a way to enjoy porn star martinis from home, without the faff of lugging large one-litre bottles home from the supermarket. A great gift to yourself or a friend who you miss enjoy a porn star martini (or five) with.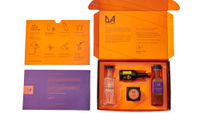 Original Pornstar Martini Kit by Douglas Ankrah | £29.95 at Amazon
We've tried, tested and we LOVE this cocktail kit. It's super convenient, it can fit through their letterbox and it tastes just as good as if it were served to you at your favourite bar. Just make sure you have a Martini glass (or two) in your cupboard.
5. Flowers! And these ones from Bloom & Wild won't* die...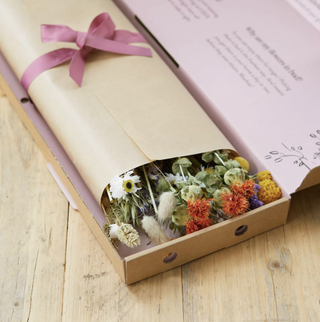 Dried flowers are so in right now! Why? Because we're already sad to be stuck at home, without being stuck at home and having to watch our flowers die as the days pass. Gift someone a bunch so they can enjoy them for months on end.
*unfortunately, they will die, just not as fast as fresh flowers will. Also, after a year of having them on display they'll probably go a bit dusty so they'll be ready to throw away.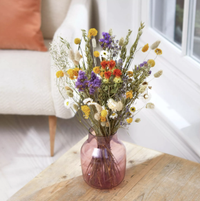 The Tayari | £36 at Bloom & Wild
This bunch features everything from limonium to gypsophilia, craspedia and fluffy bunny tails and it's suuuper pretty! FLOWER10 gives you money off, too.
6. Send someone who is shielding a Gousto box – for an easier life and tastier meals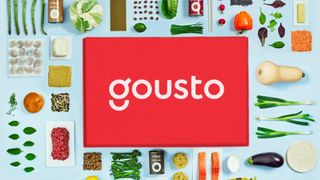 We've been Gousto fans since the start of the pandemic – not having to do a big weekly food shop truly has changed our lives. Not just that but the meals taste so good, there are new ones each week and the recipes are super easy to follow. An elderly relative, someone who lives alone or a person who may be shielding would truly appreciate this one...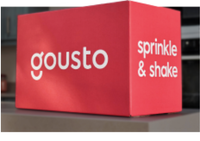 Gousto | 30% off your first month of boxes – from £17.95 per box
A life-changing purchase that you'll soon come to realise, treat yourself to one of these or someone else and you'll be hooked in no time. Super convenient, affordable especially considering the discount, and every night will feel like you are at a restaurant (if you close your eyes).
7. A lovely pair of cotton pyjamas would also go down a treat...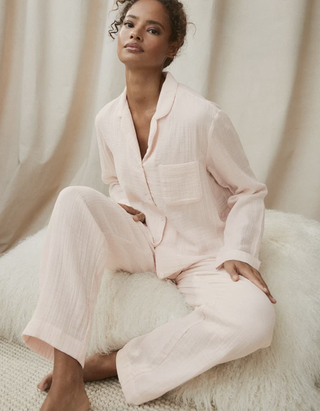 Sending something to your Mum, sister or grandma? A nice new pair of pyjamas will cheer them up. These ones are pretty enough to wear all day on a Sunday, too.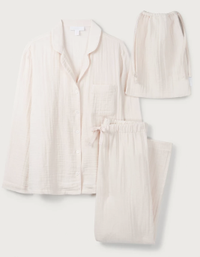 Double-Cotton Pyjama Set With Bag | £80 at The White Company
We are dreaming (no pun intended) of wearing these pyjamas paired with fresh sheets. They come with a travel bag for staycations, they're made from 100 per cent cotton and they have pearl buttons. We love!
8. Or, send them a spa package for some R&R at home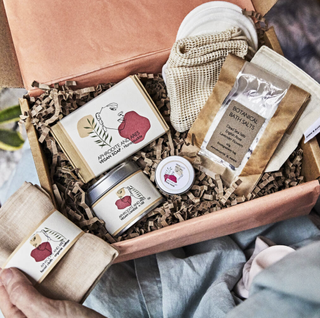 Since we can't actually go on a spa weekend (or day) right now, it'd be a lovely idea to send them a spa in a box. For someone who deserves the rest – perhaps a Mum who is trying very hard at homeschooling, an NHS worker who is constantly on their feet, or a teacher that's trying their best to online teach...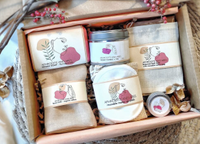 'Home Sanctuary' Personalised Organic Spa Gift Set | £39.90 at Not on the High Street
Included comes everything from soap to a candle, bath salts, a face mask (the beauty kind!), an organic cotton muslin and reusable makeup pads. A truly lovely and thoughtful gift.
9. If in doubt, everyone loves tea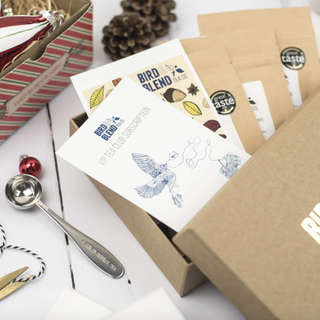 Anyone would enjoy getting some tasty tea in the post, especially since if you order it from Bird and Blend it comes in a cute box with a personalised card. Also, it's all award-winning tea so it'll be interesting to see what they have to think of each cuppa...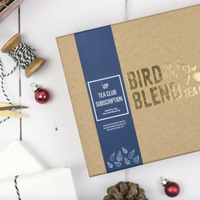 Bird & Blend Tea Co. Monthly Tea Subscription Gift Box | £36 at Not on the High Street
Included in this monthly box comes enough pouches for 45 cups of tea, as well as a cute little tea spoon for squeezing their teabag.
10. Gift some LEGO – it's something new for them to do, and something new for them to display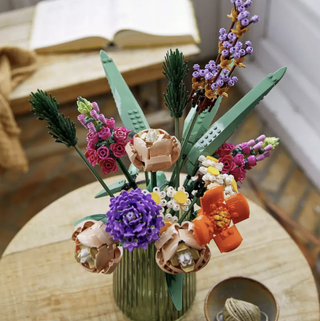 LEGO isn't just for kids, you know, and it's a great way to spend an afternoon away from screens. There are new LEGO collections out that can double up as display-worthy homeware. A thoughtful gift for someone who loves their home, and their LEGO. Here are two suggestions below...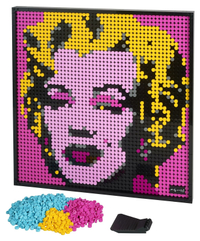 Lego 31197 Andy Warhol's Marilyn Monroe Mosaic | £114.99 £96.95 at Amazon
The new Lego Art sets are on sale, and as mentioned above they make a great present. This one is great for Marilyn Monroe fans, while there's also a Marvel option, a Star Wars one and something for fans of The Beatles.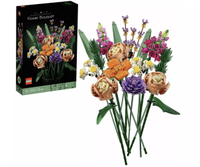 LEGO Creator Expert Flower Bouquet Set for Adults | £45 at Argos
This eye-catching LEGO set features 15 stems with realistic petals and leaves – they are even made from plant-based plastic, produced using sustainably sourced sugarcane, yet still super colourful.
11. For a meat lover – this letterbox charcuterie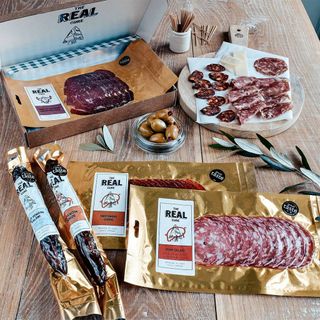 Buying for a meat lover? This tasty gift can be posted through their letterbox to enjoy for weeks and weeks.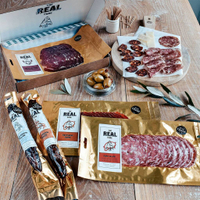 British Letterbox Charcuterie | £34 at Not on the High Street
This hamper is made in Dorset, and inside you'll find five of The Real Cure's most popular cured meats – all of which have a three month shelf life. From bresaola to salami, chorizo and more...
12. A 12 month Real Homes subscription (the best gift ever!!)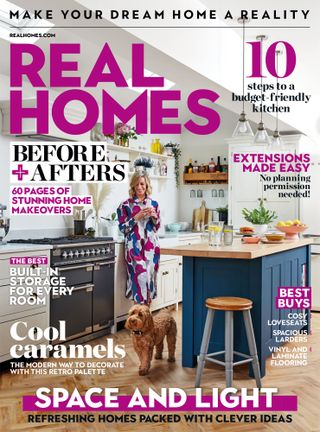 The gift that keeps on giving for 12 months – and hopefully by then we will be out of this situation – why not treat them to a subscription to Real Homes so they can get some inspiration?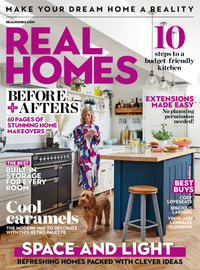 Real Homes subscription | From £1 per issue
Choose from a print subscription, a digital one or the best of both. They'll get the newest edition delivered – digitally or physically – on the same day every month to give them something to look forward to.