Le Creuset is the epitome of high-quality cookware, appreciated worldwide for its good looks, retro colors, and unbreakable ceramics. Having peeked inside the French brand's office bathroom, we now love them even more.
Twitter recently discovered that at the Le Creuset headquarters in the US, the brand's best Dutch ovens have been installed as bathroom sinks.
We're big fans of this quirky office bathroom feature that celebrates one of the brand's most famous designs. The sinks are made of oval casserole dishes in their famous 'volcanic' orange hue, bringing serious 70s vibes.
Le Creuset dutch oven bathroom sinks
I'm obsessed with the sinks inside the Le Creuset office pic.twitter.com/Mqq7KZYINVJanuary 19, 2022
Like most office bathrooms, the rest of the decor is pretty nondescript, with large mirrors, wooden under-sink units and plain white worktops. We think they were crying out for a splash of color, and what better way to put a fun (and very on-brand) spin on the space than some bright orange cookware?
It makes perfect sense. Elsewhere in the Le Creuset office in Charleston, South Carolina, the decor is just as vibrant as its cookware.
The office space has multi-colored walls and bright orange furniture, as well as plenty of its famous designs on display. Parker (@panoparker) originally shared the photo of the now internet-famous sinks, writing 'I'm obsessed with the sinks inside the Le Creuset office.'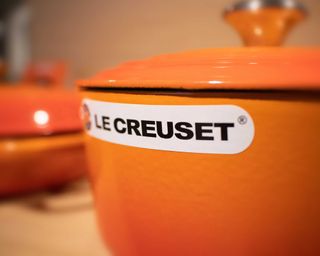 Thousands, including none other than Nigella Lawson, commented on the, quite frankly, brilliant bathroom idea. The famous food writer and presenter described the Dutch oven sinks as 'tempting.'
'Used this exact pot for my shepherds pie today...nice to see it's multi purpose,' one Twitter user wrote. 'Don't know if I'm suppose to wash my hands or cook them,' joked another.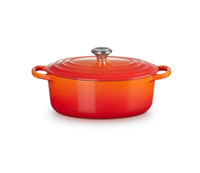 Cast Iron Oval Casserole | £235.00 - £500.00 at Le Creuset
Cook show-stopping dishes in the instantly recognizable Le Creuset Oval Casserole. Bring 70s vibes and classic design to your stove top with this dish in its fiery 'volcanic' orange hue.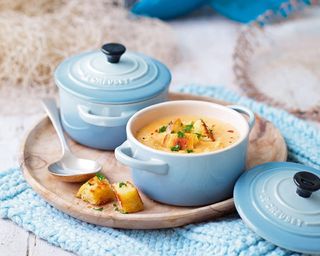 'I need these in my home!! @lecreuset guess what I'm buying next and adapting,' said a third.
Le Creuset has definitely given us food for thought with its playful bathroom sinks. The Dutch ovens are among the brand's best-known designs, and not only are they perfect for slow-roasting a leg of lamb, they also 100% work as a bathroom sink. If it's good enough for Nigella...