Yes, we've spotted the exact Kärcher pressure washer that Stacey Solomon is using to tap to tidy her garden in her new adorable home, Pickle Cottage. And, the best part is that it is on sale right now with a lovely £10 off. Just in time for us to start cleaning our gardens for sunnier days spent outside. Not just for use on garden furniture, too, but a pressure washer can transform anything from patios to wooden items, driveways, the kids' toys and so much more. In short, it's something you will get plenty of use from, for years and years to come. Not just in your back garden but your front garden, too, as well as your car. It's a versatile piece of kit, that's for sure.
We're not sure about anyone else, but recently we've been finding ourselves waiting to watch Stacey's new Instagram stories – those tap to tidy pressure washing jobs are SO satisfying. So far, we've been treated to a pressure washed bench, she recently pressure washed the wendy house roof as well as some of her garden fencing. And we are hoping they are going to keep coming...
If you want to take a slice out of Staceys book and start pressure washing your things to get them ready for use this spring and summer, then keep scrolling for details on where to buy Stacey Solomon's exact model of pressure washer from, on sale today for £190. See our best pressure washers guide for more great suggestions for sprucing up your space in time for summer.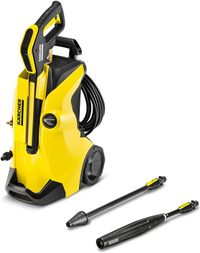 Karcher K4 Power Control Pressure Washer | £200 £190 (save £10) at Argos
This pressure will need to be connected to an outdoor tap to work and it needs to be plugged into a socket. It's on wheels and has an extendable handy for easy moving around your garden or in and out of your shed while it comes with two attachments. It also has onboard storage. You can use the LED display on the trigger gun to select the right pressure for the specific job you are doing. If need be, you can switch between surfaces with ease. The Plug 'n' Clean system means you only need to click in the bottle, choose your accessory, and you're good to go.
Kärcher K4 specifications:
Max temp: 40ºC
Hose length: 8m
Cable length: 5m
Max bar: 130
Rated bar: 130
Flow rate: 420 litres/hour
Where has Stacey used this Kärcher pressure washer in her garden?
Stacey claimed in her stories to have used her Kärcher K4 pressure washer on everything from a worn-out bench to her wendy house roof. Here are some photos to see the difference it makes...
Yes, this incredible job was done using the Kärcher K4 pressure washer. Pretty impressive, right? It just goes to show that old furniture needn't be thrown away in most cases...
Yes, Stacey also used her trusty pressure washer to clean up her wendy house roof. As you can see, it's made it look brand new!