You spend the whole day cleaning, tidying and sorting - then a day later, it's chaos again. However, actor, entrepreneur and mom-of-three Jessica Alba has a hack for cleaning the kitchen that gets the whole family involved, and leaves no corner undusted.
The method involves teamwork and a big timer displayed on the TV that everyone can see.
In an interview with The Spruce Cash Warren, Jessica's film producer husband, came up with the idea of setting a timer to a maximum of 10 minutes on his phone, and screen sharing it to the TV where it can't go unnoticed.
The timer starts, and the whole family gets to work making the kitchen sparkle, all hands on deck. Jessica Alba has said that this way they often finish the job in under their 10-minute target. Cleaning the kitchen can be a daunting task, but maybe a bit of time pressure and knowing that everyone's doing it is the recipe for success.
This cleaning hack reflects Alba's upbringing and the lessons she learnt from her grandmother who helped raise her. Alba says, 'She was always big on clean as you go. She never let things pile up until it was a disaster... There was no spring cleaning with her.'
She tries hard to follow the little and often approach of her grandma today. 'Even when I'm cooking. I'm trying to rinse that thing... and clean up as you go so it's not such an overwhelming task at the end,' she says.
She explains that doing some cleaning in short, productive bursts works for her kids because 10 minutes is an amount of time they can wrap their heads around.
Jessica and Cash also use little incentives to help keep their children motivated when tidying their rooms. If the girls clean their room in 10 minutes, for example, they are given a reward, like 10 extra minutes on one of their devices or getting to pick the movie they watch that evening.
See also: Do these top social media cleaning hacks work? We put them to the test
Jessica has a few other cleaning tips that help if you have young children: for example, making a caddy of cleaning products you can take with you around the house. This can make doing cleaning feel less overwhelming as you have all the sprays and potions you need rather than finding the right ones for each room.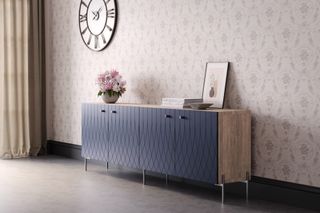 She also said that she was inspired by Nicole Richie's use of a side unit for toys. Just because it holds the kids' toys doesn't mean that a storage solution shouldn't be stylish and something you enjoy looking at.
We bet a lot of cleaning can be done in 10 minutes when everyone chips in.