As if Ikea couldn't be lovely enough, they are taking their efforts to become more sustainable even further and opening their first second-hand store. Right now it's only planned to open in Sweden, but if this takes off (and obviously we are crossing all our fingers it will) this could be a total game changer!
So what exactly is an Ikea secondhand store? Well, you know after you have done your shop and you're just about to hit the checkouts (and you're already dreaming about picking up a hot dog for the drive home), there is that section of 'used' Ikea products at reduced prices? The bargain corner? It will be like that, but a whole store of it! Imagine...
Keep scrolling to find out more, and while you patiently wait for one of these new Ikea stores to come to your country, check out our Ikea hacks feature (perfect for upcycling bits from the previously mentioned bargain corner).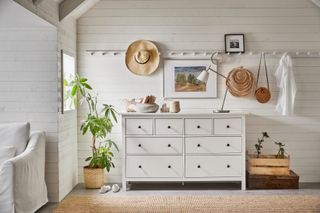 So there haven't been a lot of details yet on this new Ikea venture, but the first store is set to open later in the year in Eskilstuna, Sweden. It's said to be a pilot, with the idea that it might expand if it's a success (eeeek).
The store will be filled with pieces that can't be sold as new in store, due to being slightly scratched, or already built and returned. Whatever the reason they have ended up there, all the products sold will cost way less than you would pay for them in an actual Ikea store. So good for the planet and good for your bank balance. Win win.
Read more:
Read more: