Breaking news: the Ikea Hovag mattress is suddenly being celebrated as the best budget mattress you could ever buy. In fact, it might just be the best mattress you'll ever buy, period. And it costs just £230 for a king size (if you're in the US, check out the Haugsvar, which costs from $300).
Don't believe us? Sounds too good to be true? Then we invite you to believe the hundreds of happy customers who've already left rave reviews of this hybrid mattress on the Ikea website. Scroll down to find out more.
Do believe us? Ready to shop? You can click through to buy below...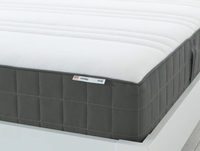 Hovag pocket spring mattress | £129-£279
As an added bonus, Ikea have lowered the prices on the Hovag in double and king sizes.
The recurring theme is the unbelievable comfort delivered for a fraction of the price of luxury mattresses people already own (one reviewer even claims they can't tell the difference between their hand-made £5,000 mattress and the Hovag).
What seems to be happening is a lot of people are buying the Hovag for buy to let properties or holiday lets, and then are amazed by the visitors' and tenants' positive reviews, emphasising the comfort of the bed.
Plus, we can reveal that the Which? review says it 'aced our tough tests'. We've not yet got our hands on one for formal testing (don't worry, it's on our to-lie-on list) but we have tried it out in store (never ideal on a sweaty, crowded Sunday – and we had to share it with a woman who looked in no hurry to budge) and can report that it's really very comfortable.
How does the Ikea Hovag mattress achieve this extraordinary level of comfort at that price? Its construction is fairly simple: traditional pocket springs with two thin layers of foam and soft filling on top (that's what makes it a hybrid, for the uninitiated).
In fact, even the firm version of this mattress comes in quite soft, which worries some people when they first try it, but apparently has no negative effect on the quality of sleep, according to review.
It's also earned some extra kudos by being very easy to move around, because it comes rolled up in a vacuum pack with handles. So, no problem getting it up stairs.
We don't know how about you, but we're very tempted by this mattress. We love to sleep well... and we love a bargain. Dream combo. Maybe it could be your next bedroom purchase?
Want more great product recommendations? Head to our deals hub page.