Gingerbread girl: Quick Menu
You're going to *love* the gingerbread girl trend if cookies are baked into your holiday ritual. You see, the team and I were invited to Etsy's Christmas preview, and while we did "ooh" and "ahh" at the grandpa chic, candycore, elevated entertaining, and mantlescaping movements — there's something that excited the girl scout in me.
The gingerbread girl trend teases all the senses. Visually, the look is centered around lots of light caramel picks, with sweet and delicate details. And, on the nose, familiar spices that will take you back to Christmas as a kid. Think ginger, cinnamon, allspice and nutmeg. It's a warm aesthetic that will make you feel all soft-centered inside.
But, I get it. Figuring out where to buy Christmas decor for your apartment and how you want to decorate it in the first place can be tricky. You don't want your scheme to feel seasonally unfestive, but clutter and unconsidered ornaments can be the Ebenezer Scrooge of space. Thankfully, you can make like Hansel and Gretel and scatter crumbs of this trend around your home.
9 handpicked gingerbread girl homewares
Why you can trust Real Homes Our expert reviewers spend hours testing and comparing products and services so you can choose the best for you. Find out more about how we test.
"Gingham prints in playful primary colors, retro accessories, and handcrafted decorations that will transport you straight to Christmas Day," according to Dayna Isom Johnson, trend expert at Etsy. To help you get a headstart, I've compiled some picks from Etsy and other stores that you can shop to create a gingerbread girl wonderland.
Gingerbread girl home fragrance
First, you have to get the scent right. With a name like "gingerbread girl aesthetic," it's no surprise that this is a big factor in setting the scene. "Gingerbread fragrances are a cherished tradition during the holiday season because when you experience them, they bring back memories of magical and exciting times," says Hope Freeman, director of fragrance development at Pura.
"As you breathe it in, notes of nutmeg, crystallized ginger, and cardamom entwine and create a symphony of comforting spices," she adds. "This magical experience invokes cherished memories of holiday gatherings, laughter, and love. The warmth of gingerbread remains long after the holidays have passed, and will linger in your heart."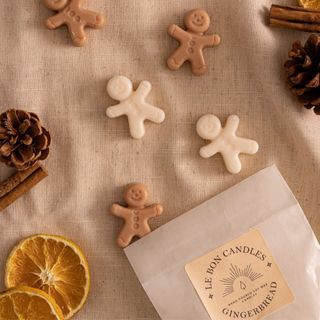 Vegan and cruelty free
1. Le Bon Candles Gingerbread Soy Wax Melts
Price: From $9.05 for six

Stop the press! I was obsessed with these little guys at the Etsy Christmas preview. They weren't sickly smelling at all and that Le Bon Candles hit the nail on the head when it came to a realistic fragrance of ginger, clove, and cinnamon, with a caramelized aroma you'd find in freshly baked cookies. They genuinely look and smell good enough to eat (but don't!)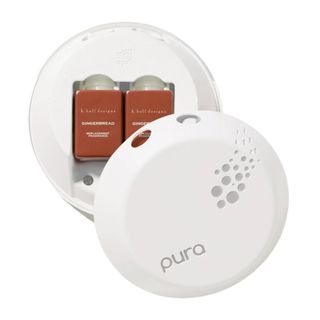 For small spaces
2. Pura Gingerbread Plug-in
Price: Was $17.99, Now $14.39 (save $3.60)
This home fragrance is fresh-out-of-the-oven delicious — sweet, buttery, gingery, and spicy. Top notes of cinnamon bark and fresh ginger mingle with warm cardamom and sweet nutmeg to warm the home and heart.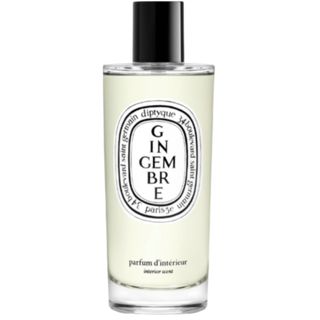 Luxury
3. Diptyque Gingembre Room Spray
Price: $72
If straight gingerbread is too sweet for you, go for this grown-up take on the fragrance. According to Nordstrom customers, this smells like freshly-cut ginger with hints of citrus (hey, orange blossom) for a more adult take on the holiday scent.
Gingerbread girl items for your kitchen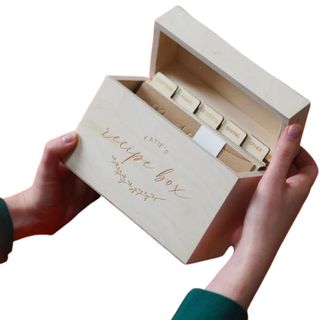 For family recipes
4. CloudsandCurrents Personalized Favorite Recipe Box
Price: $58.17
If you're always ringing your parents to ask them how to make your favorite childhood meals, you need one of these! Constructed out of birchwood, these made-to-order recipe boxes are the perfect way to ensure cooking instructions are kept safe. Each recipe box contains five dividers: Starters, Mains, Desserts, Baking, and Other, so you can organize your eats accordingly.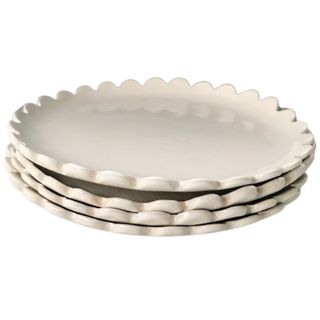 Dishwasher-safe
5. KCHossackPottery Scalloped-edge Side Plates
Price: $31.11
Forget leaving a cookie and carrot out for Santa and his reindeer — you'll want to keep these handmade stoneware plates for your girl dinner dates in the lead-up to Christmas. The scalloped edge is super pretty and these are made with food-safe glazes.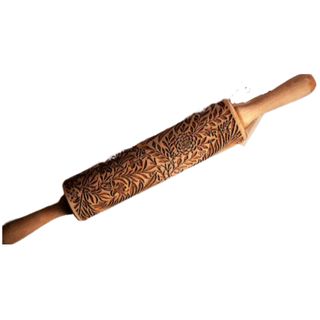 Designer-inspired
6. LowreyEngraving William Morris Rolling Pin
Price: $34
Size (in): H5 x W4.75 x D3.5
Want to give your cookies or pottery an artisan spin? Then you need this embossed kitchen accessory. This wooden utensil is a bit of an upfront investment, but it will make the most luxe-looking baked dough and clay ornaments (saving you money on cookie-cutter gifts that everyone already has).
Gingerbread girl decor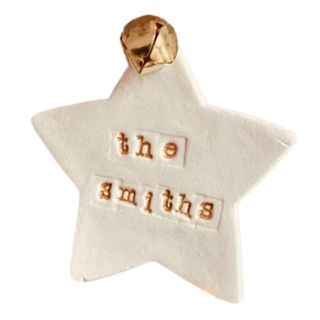 Personalized
7. TheDoodleShed Handmade Clay Tree Decoration
Price: $6.49
Want to know a tip for moving in with your partner? Make the space feel super welcoming with lovey-dovey personalized decorations. I got married this year and the duo at TheDoodleShed are helping me to continue celebrating my nuptials with this air-dried clay star.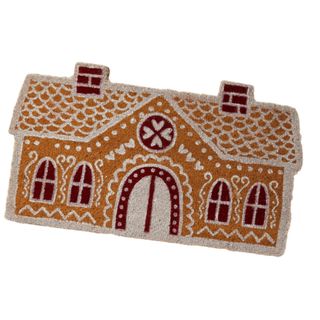 Indoor/outdoor mat
8. Indoor Outdoor Printed Gingerbread House Coir Door Mat
Price: $14.99
Welcome friends and family with this adorable gingerbread house door mat. The colder months are great for inviting people over, but I hate debris that gets dragged in by dirty shoes. If that's the way the cookie has crumbled in previous years, get this $15 buy to manage the mess.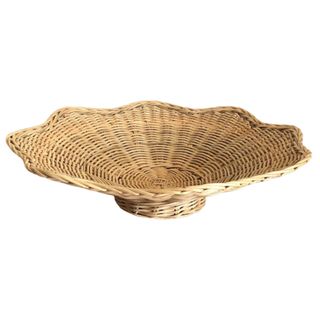 Handmade in India
9. Hastshilp Rattan Scalloped Fruit Bowl
Price: $54.45
Okay, so the OG piece we saw at the showcase is definitely an investment piece, so here's a more affordable option. Over the holidays, you can pile it high with in-season fruit. If you're running low on groceries, turn this bowl into an iconic flower arrangement to make a statement
Frequently asked questions
Is gingerbread for Christmas or Thanksgiving?
While it's most commonly seen around Christmas time, it can really go either way. "Gingerbread has always been a popular holiday baking and design trend that evolves each year, sparking creative new ways to incorporate the theme into homes," says Jenny Reimold, style expert at HomeGoods. "This sweet treat invokes fond memories of childhood and the smell of warm cookies in the kitchen, and can work for both celebratory occasions."
Why is gingerbread decor popular around Christmas?
"Gingerbread-themed Christmas decorations are a nostalgic and familiar decoration theme that will bring warmth and whimsy to any home during the holiday season," says Jess Martin, Christmas decoration and events expert at Ginger Ray." While they've been common for years, this new trend "takes the accent piece to another level."
Martin recommends "combining the key visual elements of traditional gingerbread cookies" and mixing them with playful colors and patterns, like gingham and stripes.
How we chose these gingerbread girl items
The Real Homes team was invited to an Etsy Christmas event where we were able to see, smell, and touch the products.
As for the other items we've selected, we've browsed the web for highly-rated products that would be appropriate for this guide. And of course, sometimes it's not what you know but who you know, so we're always up for speaking to industry professionals.
Meet our experts below:
Dayna Isom Johnson is the trend expert for Etsy and a judge on the NBC primetime series Making It. As part of her role at Etsy, Dayna is responsible for keeping her finger on the pulse of the hottest trends on the market. She is in constant pursuit of new and unique finds on Etsy in an effort to unearth the latest and greatest designs, up-and-coming Etsy shops, and sellers with exciting stories.
As the mother of seven children, high-profile designer and former publicist Jenny Reimold designs functional spaces for the everyday family. Following a recent move to Nashville with her former Major League Baseball player husband Nolan Reimold, Jenny's home was filmed as the Dream Home for Property Brothers.
Hope Freeman's passion and enthusiasm for the olfactory world have shaped her distinguished career working in the fragrance, beauty care, and home care industry. For 25 years, she was senior fragrance development manager at International Flavors & Fragrances (IFF), where she helped create industry-leading products for Avon, Elizabeth Arden, Ralph Lauren, Estee Lauder, Nest, Coty, Abercrombie & Fitch, and more. She now works for Pura as their director of fragrance development and serves as "the nose" to creating original and translated fragrances, while educating employees and customers about learning to smell and the value of fragrance.
Jess Martin is the resident party decorations expert at Ginger Ray with over eight years of experience in design.
---
Like what you see? If you like this contemporary spin on Christmas, take a look at our modern Christmas decor guide for an on-trend twist to styling your space for the season.