This light and airy three-bedroom home designed by Chip and Joanna Gaines in season one of Fixer Upper has just hit the market for $550,000. Otherwise known as 'the Mailander House,' this gorgeous Texas home is a score for anyone who appreciates Chip and Joanna's signature design aesthetic.
Located in Waco, Texas (of course!), the 1500-square foot property features everything you'd expect from a Fixer Upper home: a classic modern farmhouse aesthetic that includes everything from an airy neutral color palette to an open-concept living space with modern and antique furnishings… and even the Gaines' signature white-hued shiplap in the powder room and laundry room space.
"The Mailander House is a one of a kind home, as seen on 'Fixer Upper' Season 1," the Zillow listing reads. "This is a very successful, licensed, and turn-key VRBO. It comes fully furnished and with reservations throughout 2021."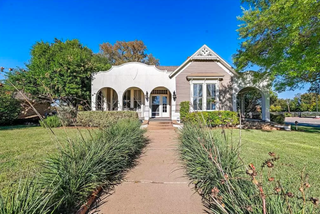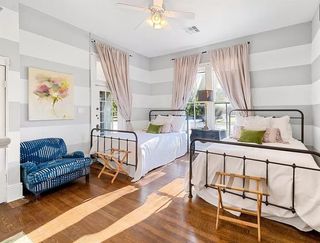 Built in 1910, the Mailander House is tucked into a quiet neighborhood in Waco and features sky-high ceilings, many windows that allow for all day light, and three large porches and decks that look out onto the private 1/3 acre garden and green space that the property is set on.
The Mailander House, also referred to as the Bicycle House due to the 1905-era bicycle that hangs on the wall of one of the bedrooms, was previously listed on Airbnb and was well-loved for its coziness and light-flooded living space.
"Very sweet and super clean house!" said one Airbnb traveler. "Loved staying in this house off of Fixer Upper and it was neat to see that some of the same decorations and items from the show were still in the house! Great location and fun to stay in for the weekend. You'll love it!"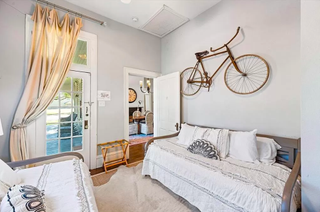 Waco natives will particularly appreciate the convenient location of the Mailander House, which, despite being tucked into a peaceful neighborhood, is close to Baylor and the Magnolia Market Silos, Baylor University, Cameron Park, and all of Waco's best restaurants and nightlife.
Interested in finding out more about the property or scheduling a visit to get to know the Joanna Gaines-designed home up close and personal? Be sure to visit the official listing on Zillow.com. Otherwise, the home is still listed on Airbnb for travelers to book for about $250 per night if you're curious to see the HGTV darling up close and personal.