How often should you wash your sheets? The answer probably is more than many of us do. Washing bedlinen is a chore, especially if you're the ironing type, and all that washing and tumble drying will take its toll on the fabric. But – not washing your bedlinen enough will take its toll on your health, which undoubtedly is worse.
If you bedroom ideas this summer include crisp, fresh sheets, you really should keep them that way for more than just the aesthetics, according to medical experts and bedlinen manufacturers. Here's what they have to think about the frequency of washing required to really keep your bedlinen clean.
How often should I be washing my sheets?
Lucy Ackroyd, Head of Design at Christy recommends: 'Wash and change your bedding at least once a week.' That is unless you suffer from allergies or have a dog or cat sleeping on your bed: 'If you have pets sleeping on your bed or you're an allergy sufferer, particularly in hay fever season, I'd recommend upping it to twice a week.'
Don't forget your duvet and pillows, too; although they need much less cleaning than sheets, 'It's important to not neglect your inner bedding either so aim to wash your duvet and pillows at least twice a year as even with linen covering them – the inner fillings can absorb dead skin cells and body oils and odours.'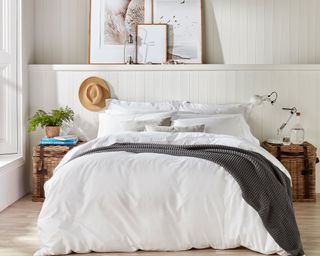 Wonder what can happen if you don't wash your bedlinen that often? Dr Chun Tang, from Pall Mall Medical, warns of the dangers of not washing your sheets often enough, commenting: 'Think of your bed sheets as a sponge, absorbing old makeup, dirt and body secretions, night after night. When sleeping on unclean bed sheets, it's common to experience skin redness, irritation, and breakouts. Dust mite droppings, a common associated risk of unclean bedding, can also worsen asthma symptoms and trigger eczema flare ups.'
If that didn't sound bad enough, if you get into bed with a knee scrape or insect bite, it's washing day: 'any sores or wounds may become infected through contact with dirty bed sheets. This infection can worsen or spread leading to more serious health complications and infections, including sepsis and cellulitis.'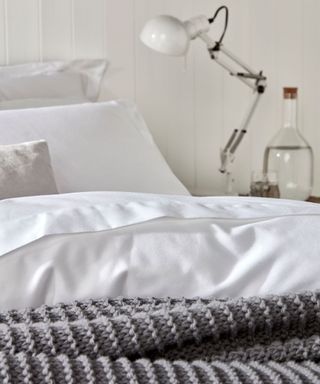 This has definitely convinced us. Worried about the bad effects on your sheets of over-washing? Fortunately, the best way to do washing with your sheets in is mostly washing them on warm, with only an occasional hot cycle to make sure you kill all the bacteria that build up over time. Lucy comments: 'As a general rule, wash your bed linen at 40 degrees on a gentle but warm cycle which will kill bacteria whilst not ruining the fabrics and colours. However, to remove oils and stubborn bacteria that can build up over time, put them through a 60-degree wash every month or so. This routine will allow them to be perfectly hygienic without taking away their quality and crisp feel.'
If you have a blood stain to remove, you'll need to learn how to remove blood stains from sheets in our guide, as the process will be a bit different.