If you are searching for some last-minute Easter decorations – whether for your home or garden – then we are here to help. From bunny-shaped cutlery holders to Easter-scented candles, Easter tree decorations and even Easter wreaths, see all of the best decorations for your home that you can buy in 2021 below.
We've been doing a little bit of online shopping at our favourite stores – Dunelm, Argos, Etsy and more – so keep scrolling for our top Easter decor picks. Because this weekend isn't just about chocolate eggs and hot cross buns (although we are very much in favour of both of these). Buy fast, too, just to make sure these buys arrive before the weekend.
Head to our Easter decorating ideas page for more inspiration.
1. These felt Easter egg decorations for your Easter tree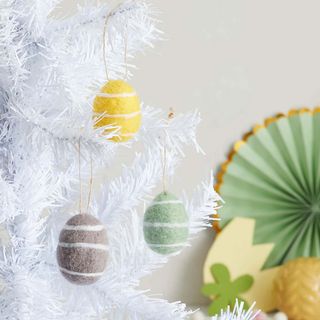 Yes, Easter trees are a thing and we are here for it. Buy these sweet felt decorations and hang them on your tree, or use them to dot around your living room, garden or wherever – you could even use them to decorate your Easter table...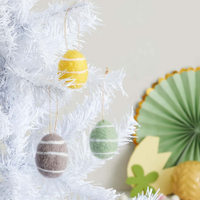 Set of 3 Hanging Easter Egg Decorations | £5 at Dunelm
How cute are these? They come in a pack of three and they are a bargain – buy now before they sell out.
2. Some Easter gnomes – or gonks – to spruce up your space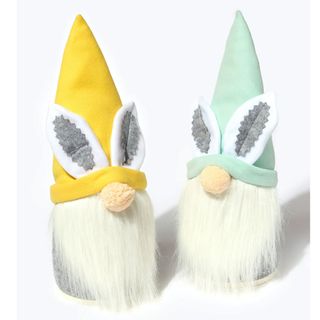 The kids will love these cute Easter gnomes – buy them to dot around the house from in your hallway to next to your sofa and under your Easter tree. They have fluffy beards and they come with hats on, and the hats have bunny ears attached. So cute!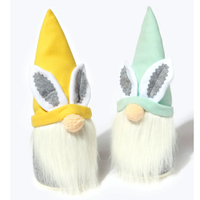 Large Easter Gnome (40cm) | £8 at Matalan
These Easter gnomes also come in a smaller size (20cm) and you will receive a random colour, from green to yellow or pink.
3. What about some Easter bunting? This one is simple yet effective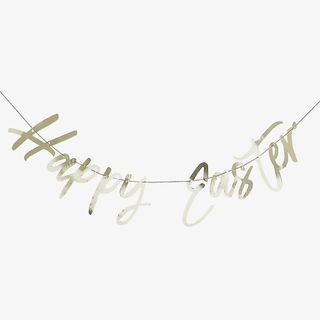 What's a celebration without a bit of bunting? Hang this lovely option from Selfridges across your fireplace or under a shelf, or even from one corner of a table to another if you're not having a sit down dinner. Subtle yet effective...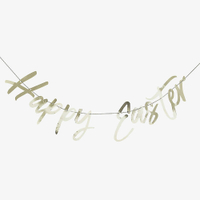 Happy Easter paper bunting 1.5m | £6 at Selfridges
This silver bunting reads "Happy Easter" in a lovely font, while it's made from paper so you can either reuse or throw it away guilt-free.
4. An Easter tree for your dining table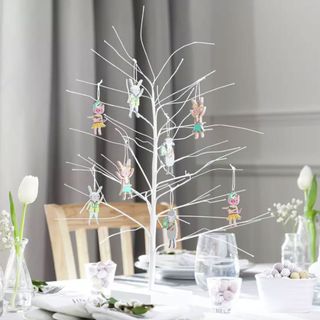 We saw it on Mrs Hinch's Instagram so we obviously want to copy. Also, an Easter tree will definitely get little ones excited for the occasion. Pop it on a table or side and decorate with anything you like including lights. It's also white so will be sure to blend in with your interiors, and you can re-use it year after year.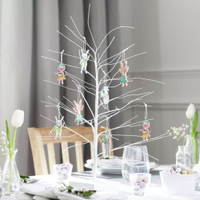 White Easter Tree | £10 at Argos
This Easter tree measures 54cm high and it would make a great table centrepiece. Get yours now before they all go!
5. Hang these paper eggs from your ceilings for a truly magical surprise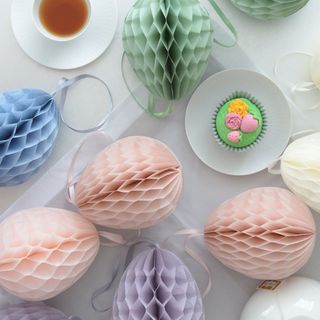 These tissue paper decorations would look great hung on your ceiling – using tape or tac, of course. They come in a range of colours and sizes so you could even buy large ones to nestle in a corner of your home. Though simple, we love them.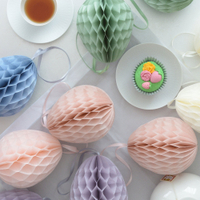 DecoPomPoms Paper Easter eggs | From £6.75 at Etsy
Choose your size and colour and hang these egg decorations around your home using the lovely colour-matched ribbons. Fold them away after use, ready for next Easter, or recycle them if need be.
6. Buy an Easter wreath for hanging above your fireplace or using on your table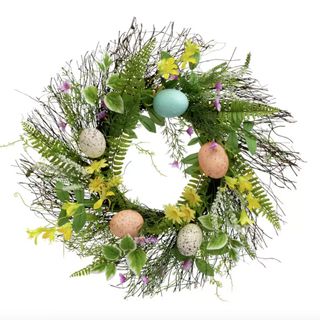 Easter wreaths are a trend we can definitely get on board with – whether for hanging on doors or using on a table, with a candle in the middle. This artificial one from Argos can be used year after year, and it's decorated with pastel coloured eggs as well as foliage and yellow and pink flowers for a pop of colour.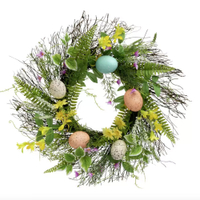 Argos Home Faux Floral Egg Wreath | £12 Argos
A bargain for just £12, this floral wreath measures 2.3metres long and it arrives fully decorated, ready to hang or place. It's eye-catching, that's for sure...

7. Let's not forget about fairy lights! These carrot ones are super cute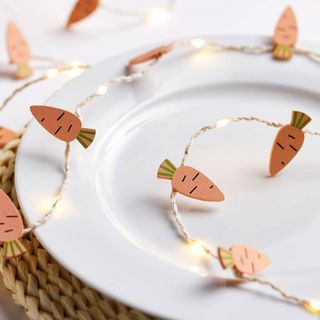 How could we forget about lighting? Especially when there's stuff out there that's this cute. These fairy lights from Lights4fun are decorated with mini wooden carrots to make them fun. They're great for a subtle glow, for decorating your Easter table or draping over a fireplace or mantlepiece. Afterwards, you could use them in your nursery for a little bit of light.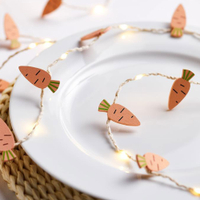 20 Carrot Micro Fairy Lights | £7.99 at Lights4fun
These fairy lights measure 1.9-metres long and they are battery operated. You can even set them on a six-hour timer and they are bendable to work with your space.
8. Buy some glass decorations to decorate your tree or table with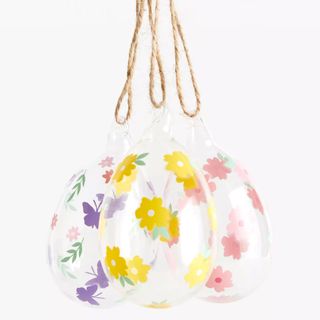 Use these beautiful glass decorations to hang on your Easter tree or to decorate your table with, especially if you'd rather opt for something durable and a little less kiddy. They come with strings for hanging, while they feature a colourful pattern to add a pop of colour to your tree or table. We love!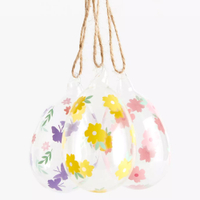 John Lewis & Partners Small Hemp Rose Assorted Glass Decorative Egg | £2.75 at John Lewis & Partners
Unfortunately, you can't choose your colour when buying one of these decorations – they choose for you. Between purple, yellow or pink, but they are all pretty so you needn't worry about it.
9. What about an easter-scented Yankee Candle for your table?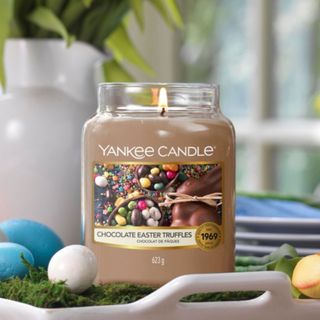 We can confirm that this Easter-scented candle smells as good as it looks. It will leave your home smelling like an Easter egg, while its scent will flood each and every room in your home. It comes in a large jar and has an impressive burn time of 110 to 150 hours.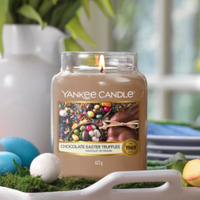 Chocolate Easter Truffles | £24.99 £18.74 at Yankee Candle
This Easter candle would make a great gift for someone who loves chocolate (or who just deserves a treat). It smells like chocolate, whipped cream and warm milk.
10. Easter bunny cutlery holders – for when it comes to eating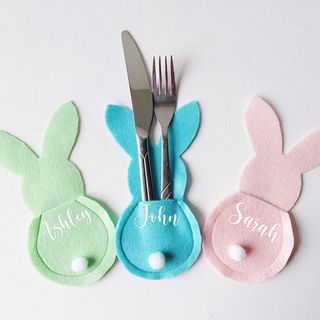 These customisable cutlery holders are bunny-shaped, they come in a range of colours and they are reusable. Perfect for holding your cutlery and for helping to make your Easter table look tidier.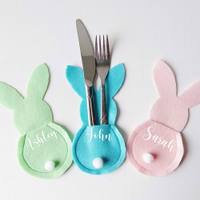 Personalised Easter Bunny Cutlery Holders | £3.49 at Amazon
Customise these cutlery holders with names and choose a colour from pink, blue or green. They are made of felt and can be delivered fast if you are quick.