Robotic vacuums are a craze, and that craze will probably never let up. They are awesome little helpers that can keep your home tidy with very little effort on your port, and they keep getting better every year. But, if you've seen the prices of the most capable ones, you've probably thought about settling for a simpler, budget option. With eBay's Certified Refurbished program, you don't have to settle, as it makes otherwise expensive products much more affordable.
You can snag a mid-range Roomba E6 from iRobot for just $199 through the program (opens in new tab), saving you 47% off the retail price. Premium models are also discounted, like the iRobot Roomba 980, which would normally cost about $600 but is just $399 on eBay through the Certified Refurbished program.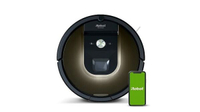 (opens in new tab)
iRobot Roomba 980
This capable cleaning machine can vacuum your hard floors and carpets for two hours at a time, intelligently navigating to get your home cleaned effectively and efficiently. And, this deal makes it 33% off.
On sale on eBay for $399 (opens in new tab)
The new eBay Certified Refurbished program brings you products that come in like-new condition but you don't have to pay like-new prices. The Certified Refurbished products have been inspected, cleaned, and refurbished by the manufacturers themselves or by manufacturer-approved vendors, so when you get a Certified Refurbished Roomba, you know the Roomba will look and function just like any new Roomba would.
You don't miss out on warranty coverage either. Certified Refurbished products in this program all come with a two-year warranty, so if for some reason the iRobot Roomba E6 or Roomba 980 doesn't manage to hold up as it should, you're covered.
In the case of the iRobot Roomba 980, the $200 in savings will be hard to beat. This robotic vacuum can scurry around your house for up to 2 hours on a single charge. That's plenty of time for it to get cleaning done, considering that it uses intelligent navigation to navigate and systematically clean your home. If you've got a lot of area to cover or the Roomba needs to use extra power to handle lots of carpet and rugs, it can automatically head back to its charger to get the power it needs to keep on cleaning until the job is done.
The Roomba 980 can not only keep your home cleaner but also healthier, as it's designed to handle dust, pet hair, mites, and allergens alike. It can even schedule more cleanings during allergy seasons, helping improve the air quality in your home.
So, if you want all the assurances and quality of buying a new Roomba 980, you can save a huge chunk of change by grabbing one through eBay's Certified Refurbished program. See the Roomba 980 for $399 here (opens in new tab).