Captain Tom Moore first came to our attention a couple of weeks ago when a story broke that he was aiming to walk a hundred lengths of his back garden before his 100th birthday at the end of this month.
And we were glued to our TVs (tears in eyes) when he completed his final 10 laps out of his 100 last Thursday morning – see them in the video below – and, of course, we were moved to donate to Captain Tom's JustGiving fund (opens in new tab) (donate! You still can!), which is raising money for our NHS heroes (and, in the words of the JustGiving page, is spreading some cheer around the world while doing so, too).
What also caught our eye was the swimming pool (in the video, just behind the guard of honour). We're not sure if Tom uses it (although we'd like to think so – it's rumoured he recently ordered a running machine so he could keep fit in cooler weather), but it did make us think about all the staycationers this year who are lucky to have space in their gardens to turn isolation into a great British holiday (weather permitting). Details on it (or at least one that's very similar), are just below. Looks fun, and it's a whole lot cheaper than a flight to the Costa del Somewhere.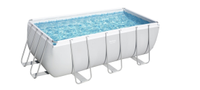 (opens in new tab)
More about Captain Tom Moore's swimming pool
Bestway (opens in new tab)'s Power Steel Pools come in a range of sizes as a complete set, featuring a framed swimming pool, a filter pump with filter, a ChemConnect chlorine dispenser, safety ladder and a repair patch. Easy to set up with no tools required, the Seal and Lock system prevents friction to form a secure frame connection, as well as corrosion resistant metal to keep your pool lasting longer. There's a simple flow control drain valve for easy draining and disassembly, and you can easily attach a hose with the included adapter and drain the water away, ready for storage when not in use. There's a two-year warranty, too.