Netflix's period drama Bridgerton was the perfect escapism this winter, serving us through Crimbo limbo and beyond. There were stolen glances across the ballroom, many a promenade and - most importantly - the wisteria-covered Bridgerton home and its lavish interiors.
Millions of us tuned into the series, playing a mental game of Cluedo to work out who Lady Whistledown really was. And it turns out the hit series has inspired many of us to add a touch of Regency-era decor into our own homes. Bridgerton bedrooms alone have surged in popularity, with an 81 per cent increase in Google search since the show aired.
These are the Bridgerton interior design trends we can't get enough of.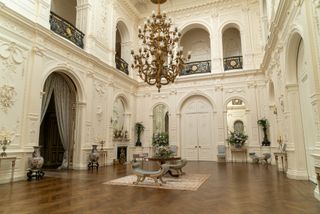 Bridgerton interiors trends
The prettiest trends to incorporate into your home.
The sleigh bed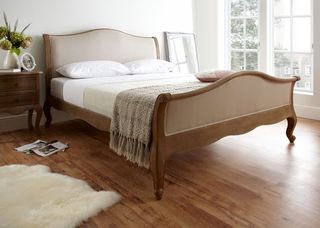 The first item that's seen a rise in popularity since the show dropped on Netflix on Christmas Day is the sleigh bed.
'Sleigh beds are a beautifully versatile choice as the curved edges exude regal sophistication that is sure to stand the test of time,' explains Jonathan Warren, director at bed specialist Time4Sleep.
Thanks to its curved edges and sturdy yet elegant silhouette with both a headboard and footboard, the grand 19th-century bed certainly makes a statement.
It's no surprise that more of us have been taking to Google to look for a bed to match the grandeur of those on the show. Who wouldn't want a bed that makes you feel like you're climbing into a sleigh every night?
It's a brilliant way of making the bed the focal point of a bedroom and will complement more modern interiors elsewhere in the room. Alternatively, add some opulence with a soft fabric headboard in a bold, floral print or a subtle plain pastel.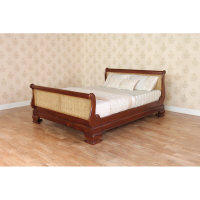 Sleigh bed | Wayfair, £791.66
Create a similar look with this hand-crafted sleigh bed in mahogany and rattan from Wayfair
Layering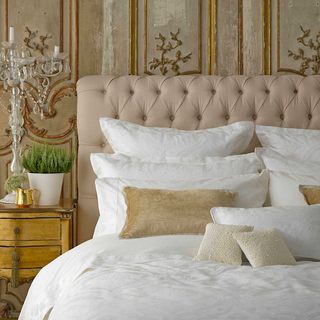 Next up is layering. Adding a mixture of different textures and tones into a bedroom by using cushions, bedsheets and throws is a simple way to build a luxurious feel. Lucy Ackroyd, Head of Design at Christy, suggests using a 'subtle colour palette with stand-out patterns' when layering.
She says, 'Start with a pale gold sheet topped with an elegant warm white or gold duvet set featuring a damask design before adding accessories.'
Bridgerton's bedrooms often have muted tones with bold patterns and lots of gold detailing.
Wisteria
There was also a rise in search for wisteria following Bridgerton's launch. For those of us without a beautiful façade like Daphne's family, wisteria patterned wallpaper could be a subtle nod to the Georgian style. Woodchip and Magnolia's wisteria wallpaper comes in cornflour blue and yellow.
Wedgewood Blue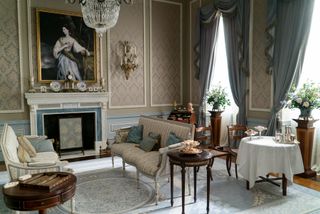 A light blue similar to that of traditional white and blue china was everywhere on Bridgerton, from the wallpaper to the furniture, and it was even mirrored in Daphne and her mum's empire waist dresses. This pastel blue is sure to be making a comeback after the air time it had on the show.
The Roman blind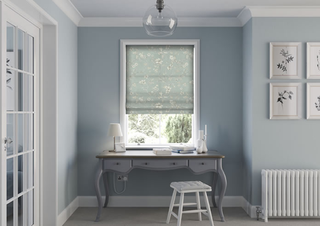 Finally, we have the Roman blind. Jason Peterkin, director at 247 Blinds says 'Roman blinds are a great choice for the bedroom as they add an element of sophistication but are also very practical as they help to block out almost all light, leading to a better night's sleep.'
So not only will a Roman blind add style and a certain softness to a room compared to a Venetian blind, it also brilliant at blocking out the light. Go all-out Bridgerton with a pale blue, or perhaps a regal colour scheme with a botanical pattern.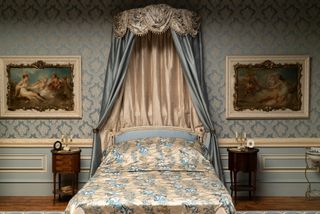 With a further eight series approved by Netflix, it's just a matter of time until Bridgerton-inspired opulence makes its way into our homes.