While Beyonce may already be known around the globe as Queen Bey, leader of her Beyhive fan base—the elusive singer recently revealed she tends to a different kind of beehive as well—a real honeybee colony.
"I know it's random, but I have two beehives," Beyonce told British Vogue in a recent interview. "Real ones. I've had them at my house for a while now. I have around 80,000 bees and we make hundreds of jars of honey a year. I started the beehives because my daughters, Blue and Rumi, both have terrible allergies, and honey has countless healing properties."
While it may seem like quite the undertaking to build and tend to your own beehive, it's actually a decently low maintenance hobby… especially if you're simply hoping to provide refuge for your bees rather than collecting and canning your own honey.
All the essential equipment and tools, from the hive parts to the smoker and the individual tools, can be purchased as a kit on Amazon. We've included a handful of top rated at-home beehives below to help get you started—these range from no-frills to high-end but all of the below will provide safe, healthy refuge for your new colony.
Following the hive guidelines, you'll either have to invest in a colony of bees from a local beekeeper, or create a space that bees will naturally want to move into… while the latter is a much more eco-friendly option (we're all too well aware of the shrinking bee population and difficult conditions they face), picking up a colony ensures you'll have bees populating your hive immediately.
Note that if you're considering starting a hive into the winter, you'll want to pick up the essential tools to winterize your hive—an insulating wrap and a mouse guard should do it but it doesn't hurt to move your hive to a fenced in or tree lined area for added protection against the elements.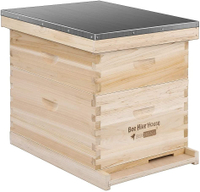 VIVOHOME Wooden 20 Frames Langstroth Honey Bee Hive Box with Metal Roof | Currently $139.99
This complete kit includes everything you need to get your beehive started—including the queen excluder and entrance reducer. The easy-to-assemble kit was made to be put together in less than 10 minutes and is a great option for anyone who may be nervous or worried about getting started.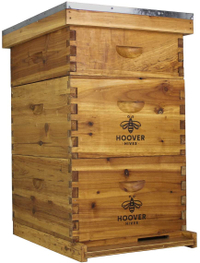 Hoover Hives 10 Frame Langstroth Beehive | Currently $189
This classic Langstroth beehive has over 400 positive ratings on Amazon—but is particularly well-loved for its wax coating and aesthetically pleasing design (that's also the best shape for the bees!). While it's slightly bigger than the average at-home hive, it's still pretty simple to put together and take care of.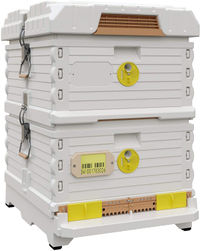 Apimaye Ergo Plus Langstroth Size Insulated Bee Hive Set | Currently $250
Worried about your new hive surviving the winter? This insulated bee hive set was made to withstand the elements—and while it may be the most expensive hive on the list, the pre-assembled set was made to help bees flourish through the seasons while preventing mice and other pests.