Your sleepy self needs a great night's sleep. But buying a mattress full-price? I don't think so. I know my bank balance definitely wouldn't allow it (lol). Jokes aside, a brand-new mattress can cost thousands of dollars, and spending all of your savings on a place to rest your head can be a hard pill to swallow. So what to do when you're sleeping uncomfortably but can't afford one of the best mattresses? Get it when it's discounted, of course.
Well, you're in luck. The ever-popular Emma Original mattress is half-price (opens in new tab) RN! We've tried it (and love it) so you can trust that it's an amazing memory foam mattress. You might have had your eye on an Emma before — or not — either way, this mattress deal is honestly *so* good, you should probably keep it to yourself.
What is the best mattress on sale now?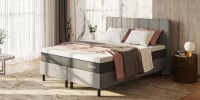 (opens in new tab)
Emma Original mattress | Was $1,399, Now $699 (save $700) (opens in new tab)
The sweetest deal we've seen on Emma since Black Friday. Simply add to your basket and save up to 50% in the process — easy! You'll be living your lazy girl dream in no time.
More about the Emma Original
(opens in new tab)
The Emma mattress is the best value memory foam mattress you can buy, in our opinion. Rated highly by other reviewers, too, it's one of the top picks for its price. It earns major points when it comes to motion control and support, and it's well-suited to all sleep positions, including anyone who tends to move a lot in their sleep.
How we slept
Whether you're a side, front, or back sleeper, this mattress is a good fit. It's easy to switch positions and is comfortable whichever way you choose to sleep that night. We'd rate it towards the firmer end of medium, but it's certainly not too solid nor too soft. You could argue it meets the "Goldilocks standard" of being just right. This is ideal for couples with different sleeping styles, but it's also evenly supportive across the entire surface, so there's plenty of room to spread out if you're a single sleeper.
What's so dreamy?
The top layer is an elastic foam called Airgocell, which relieves pressure and cradles the body. The memory foam layer is next and, like all memory foam, keeps you comfortable in any position. The base is made from cold foam that supports the above layers and you. It then has a breathable, removable top cover that can be washed at 140°F, this will bust dirt better than the standard guidance you find with other models. Handles also make it easier to maneuver.
Read the full Emma Original mattress review