Broken-plan living sounds like something's gone badly wrong with your design scheme. But really it's a smart solution that embraces the light and spaciousness of open-plan while offering some of the privacy of separate rooms.
Open-plan has been gaining a head of steam with extenders and renovators since the 1970s, as walls were demolished in a bid to bring cooking, dining and living together in one large, light-filled space. It was intended to get rid of poky, unused rooms and unite families – helping parents to keep an eye on their kids.
But sometimes these great expanses work better if they are broken up into more intimate areas. Part walls and open door frames create just enough of a divide to give different zones their own unique purpose, and to shield them from the noise of what's going on elsewhere.
We love how Ellie and Nick opened up the ground floor their Edwardian terrace in London, while still having the sense of different rooms. It suits them and their young daughter, Tia. And the lack of doors also makes it easier for pet rabbits Rocco and Flannie to hop freely around. Ellie reveals how they settled on this versatile solution.
If you're planning a home addition, we've got plenty of advice on what to do and where to start
The before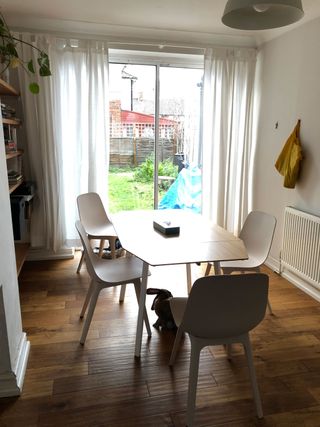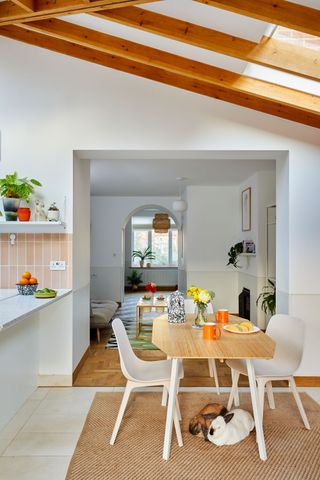 'There were lots of defects in the surveyor report when we bought this house,' says Ellie. 'The windows were broken so you couldn't open or close them. There was a small extension built by a previous owner but it was badly constructed. The roof was in a state and we were concerned about leakage. We decided that if we were going to fix it, we might as well do it the way we wanted to. We looked online at projects we liked and contacted the architects. It was Nick who met nimtim architects to begin with – they were a winner because he really liked their dog! All the signs pointed towards us going with them. We liked their style, their attitude and their people.'
The process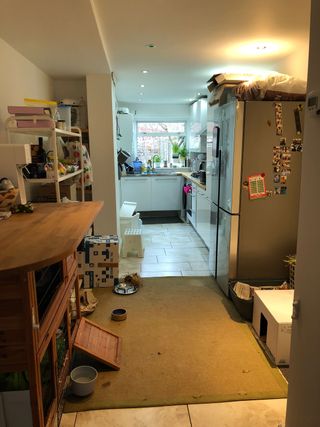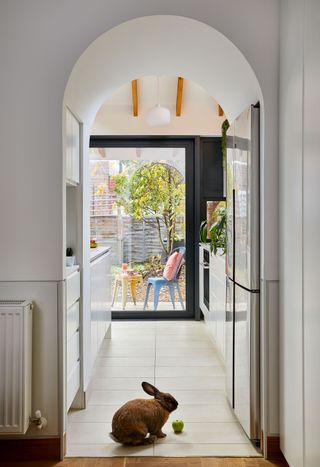 'We needed something to prevent the rabbits from nibbling the skirting and edging – an issue in previous properties – and we wanted an open layout so we could easily monitor them. Nimtim showed us examples of what could work and we played around with layouts until we settled on something we loved.
'We were trying to think of what we could do with the room in the middle of the ground floor. It needed to be something versatile while our family grows. We treat it as a flexible space. It's a living area and playroom during the day, a guest bedroom when family come to visit, and maybe another bedroom in the future.'
The details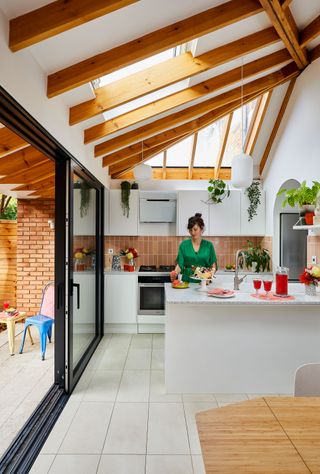 'Nimtim's solution to the rabbit problem was to add a line 90cm up the wall, under which everything was made rabbit-proof. The paint is washable and they used recessed oak skirting to prevent nibbling. It was an expensive undertaking but it works really well – Rocco and Flannie never go near the walls, and it's a nice decorative feature.'
'My favourite part of the house is the kitchen – there's a lot to love about it. We also love the terrace because we can sit outside and enjoy the garden even when it's raining. Everyone can do what they want in this space and I don't have to worry about Tia because she's always in sight. It takes away the anxiety of having a young child – and two mischievous rabbits.'
Keep your carpets fur free with our pick of the best vacuum cleaners for pet hair