As a nation, we're getting braver with our design choices, but all too often the bathroom is left plain, simple and white. Julia Eldon, owner of home decor business Suburban Salon, took her maximalist style into the bathroom too, and the result is something to be proud of.
Not one to shy away from a little decor experimentation and going against the grain, Julia ditched your typical bathroom wall coverings of tiles and paint, for something a little more... living room-y. Dark wall panelling and statement wallpaper has given this space an elegant and charismatic edge, so we've chatted to her to find out more.
Head here for more bathroom ideas.
The before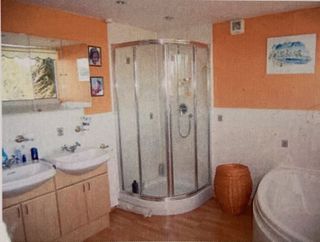 The bathroom previously had your typical white tiles, and was painted a bright shade of orange. While it might work for some, it wasn't exactly a soothing space for winding down in the tub at the end of a long day.
The after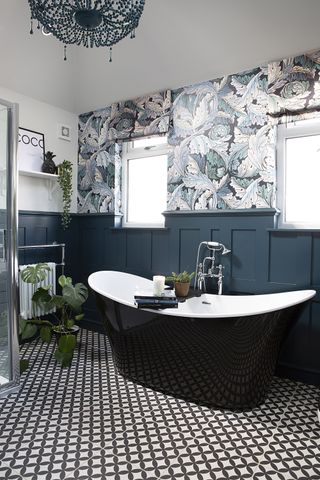 What a difference! Swapping the white tiles for DIY wood panelling in Hague Blue by Farrow & Ball adds texture and depth to the space. There's a certain nostalgic charisma that comes with wall panelling, bringing a sense of warmth and subtle interest.
The bold wallpaper is from House of Hackney. 'I've always loved pattern and colour and I think beautiful wallpaper anchors a space,' says Julia. 'I start by deciding where I'm going to place the pattern, be it wallpaper or fabric, and I'll base the entire colour scheme on that pattern.' Here, the blues, whites and blacks of the wallpaper pattern are picked up in the panelling, the bath and the flooring for a perfectly cohesive scheme.
The detail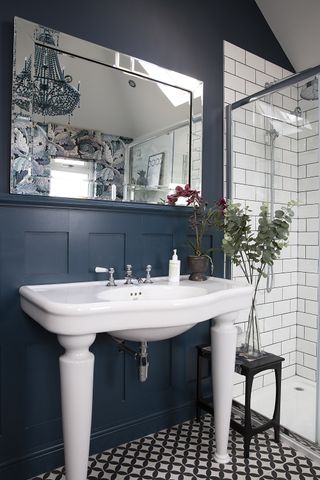 'With any room, I tend to draw out the floor plan, then think about how the space might work best,' Julia says. Here the existing layout worked well, so Julia kept the furniture in the same place as before (which would have saved a lot of £££).
'With most rooms, I'll buy one thing I love, then shop around for deals on everything else,' Julia says. 'I spent all my money on the French boutique-style sink from Lefroy Brooks – the ceiling light and mirror are from BHS and the rest of it is Ebay or DIY.'