Spotted: a B&Q egg chair that, unlike the famous Aldi version, is in stock today. If you are (understandably) gutted that you didn't get your hands on the egg chair from Aldi, which went out of stock online within minutes, then don't give up hope just yet. This lovely looking B&Q egg chair is in stock right now – it can be delivered to your door within 14 days.
The egg chair we are talking about is unlike any other we've seen – it may be made from rattan but it looks like bamboo. It's also pretty large with enough space for two to sit... or just you and the dog. That and it's easy to maintain – just wipe it down with a damp cloth when need be.
We'll stop beating around the bush – the Apolima Rattan effect Egg Chair costs £411 from B&Q. We're well aware this is an investment, but this B&Q egg chair does come with a five-year warranty, as well as all of the cosy cushions, and delivery is free and fast. This means you can enjoy your new egg chair ahead of the 29th March – just in time for us being allowed to socialise with another household in our back gardens.
What are you waiting for? We think this egg chair would be a lovely addition to any outside space – just pop it atop an outdoor rug, surrounded by your other garden furniture, and you'll be laughing. Not only is it an extra seat for guests, but it's another space to sunbathe this summer, an extra spot to enjoy your morning coffee and it looks like an ideal place to lay back with a book. Did someone say Pimms?
Head to our ultimate best garden furniture guide for our favourite styles for SS21.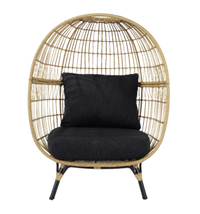 Apolima Rattan effect Egg Chair | £411 at B&Q
This sturdy egg chair boasts a steel frame and it's on four sturdy legs to keep it put on your decking, patio or grass. With rounded corners, a high ceiling and a wide seat, it's a perfect size. It's water-resistant, but you may want to buy a cover for the winter, and you'll want to bring the cushions in if the weather is bad. This B&Q egg chair has 5-star reviews for good reason...
B&Q egg chair VS Aldi egg chair – what's the difference?
If you are deciding between the two – the B&Q egg chair and the Aldi version – then we can help make your decision.
The B&Q egg chair is in stock now – the Aldi one isn't and we are not sure when it next will be.
The Aldi egg chair is admittedly cheaper than the B&Q one, at £159.99, but it only comes with a three-year warranty. The B&Q egg chair has a five-year warranty.
The B&Q egg chair has a larger seating space than the Aldi one – you could possibly even fit two people on the B&Q egg chair, but the Aldi one is just big enough to seat one person. The B&Q one is also large enough to be used for lounging.
The Aldi egg chair is on a hanging frame. Though this frame can hold up to 100kg in weight, this isn't the most sturdy, especially if someone less-able wants to sit on this chair – it will move as you are sitting on it. Saying that, the kids will love it! The B&Q equivalent sits firmly on the floor with four legs.
Both chairs are on a sturdy frame that's weatherproof, too. Looks-wise, the B&Q egg chair comes in a brown colour – that almost looks like bamboo – and the Aldi one is a lighter brown. This one's up to your personal opinion, and the colour scheme of your garden...