Is the bidet coming back? Who knew we'd ever be asking this question seriously, but there's plenty of evidence that this much-unloved bathroom feature may be becoming popular once again.
You typically won't find bidets in high-end bathroom ideas galleries, but that's a bit of shame – interior designers and bathroom professionals are telling us that the demand for this useful piece of sanitaryware is surging.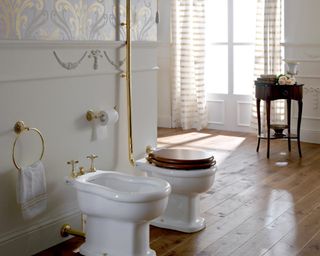 Is the bidet having a comeback?
The answer is a resounding 'yes!' Gerald Carpenter, a professional plumber in the 3rd generation and consultant Sanitary Review, said: 'Based on my own bidet installation experience and the rise in the number of affiliate bidet seat sales on my blog, I can conclude that bidets are back in fashion. I've been in the business for decades, but I haven't seen such a surge in bidet popularity before 2019-2021. Approximately every fourth order I've received over the last 3 years is bidet or bidet seat installation. I had one of such orders in 2010!'
Peter Emmanuel Rossi, an interior designer & professional hot tub designer, expert and founder of ByRossi, points out that this surge in popularity is likely due to the fact that bidet design has changed considerably. He said: 'do not mistake the new bidets with the conventional ones. Conventional bidets referred to a stream of water close to your toilet. However, modern bidets refer to toilets built-in with a source of water which only requires you to set the pressure and temperature, and the rest is done.'
Basically, they're much easier and more pleasant to use these days. Peter also believes that a heightened environmental consciousness is making the humble bidet popular: 'The prime reason behind bidets trending is to reduce the consumption of toilet papers and help the environment. More than 270,000 trees are flushed into the landfills every day, and toilet paper makes up 10% of that. Therefore, the awareness is rising and people are making more use of bidets.'
Will a bidet reduce the value of my home?
Here's where opinions are somewhat divided. Nick Deckard, a realtor in Ocean City, NJ, had the following to say about bidets and house sales: 'I've shown a few homes recently that had bidets. The reactions were PRICELESS! In each instance, I showed these homes to families (2 adults 50+ years old and their kids ranging from 17-30). The older folks were weirded out and the younger ones were excited!'
Nick's main piece of advice is to be careful if you want a bidet and to sell your home: 'Bidets are coming back, but I think we're still a few years away from them going mainstream enough to affect home values in a positive way. For now, they're likely to be a negative.'
Peter is more optimistic: 'Sanitary designers are now revving up the designs of bidets to match the modern trends of washrooms and toilets. This is why many interior designers and homeowners are now considering using them.'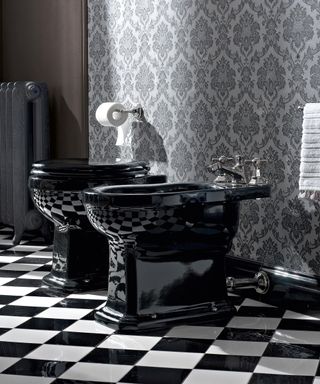 John Lawless, content marketing manager for the Big Bathroom Shop, agrees that it's all about the design, and, actually, you can just about get away with them if they are in the Japanese shower-toilet style where the bidet is not separate from the toilet: 'the aesthetic of the shower toilet is incredibly important. And many toilets of this type will incorporate ultra-modern profiles, with streamlined back-to-wall or wall-hung designs the dominant available styles. They're perfect to enhance contemporary bathroom interiors.'

Bidets are undoubtedly hugely beneficial, and if you incorporate them into modern bathroom ideas in a clever way, they shouldn't be too much of an eyesore.