Love the taste of authentic Italian espresso? There's no need to spend a fortune to get a perfect morning coffee at home. Lavazza have been making compact and affordable espresso machines for a good while now, and now you can get one of their best coffee machines, the small but mighty Jolie, with half the price off at John Lewis.
If you're after a fuss-free, consistently good espresso machine, we wouldn't even wait until January sales to get this one, because we don't believe it's possible to get this level of quality at under £40 elsewhere.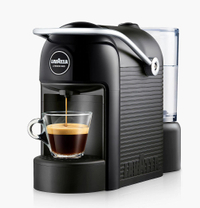 Lavazza Jolie coffee mahcine | Was £79, now £39.50 at John Lewis
One of Lavazza's most compact coffee machines, the Jolie boasts creating the perfect espresso shot from Lavazza capsules. What we really like is that the Lavazza 'eco caps' are compostable.
How does the Jolie produce such good coffee? Thanks to its ten-bar pressure construction, which extracts the perfect flavour and leaves a delectable crema on top. This compact Lavazza classic proves that you don't always need to get the most expensive espresso machine to enjoy great coffee.
More of our favourite discounts: