Aperol (yes, Aperol) has revealed a limited edition interiors collection that has saved this summer before it has even started.
Aperol A Casa Capsule is a range of curated furnishings and paints that all pay homage to everybody's favorite Italian liquor through its signature orange color.
While this trademark orange shade is instantly associable with the globally-admired aperitif, there are further psychological benefits to using this bright palette, as Aperol aims to inject orange sunshine in our homes, when we feel like we need it most.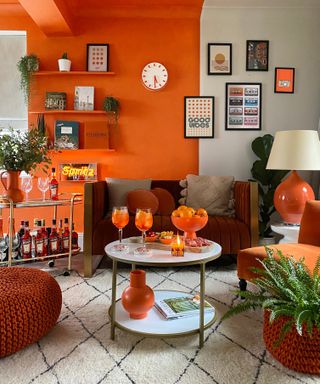 The orange tones of Aperol A Casa Capsule Collection aim to expand on the 'timeless aperitivo ritual' which sees families and friends reconnect after a long day, even if it is only virtually for the time being.
This joyous atmosphere is reflected through the collection's color, which will fill any home with positivity and create the perfect setting to enjoy the first drink of the evening - cheers to that.
The collection, which was designed in collaboration with interior expert Lisa Dawson, comes at a time when we could all do with a little orange in our lives, as we continue to live through restrictions and the longest winter of our lives.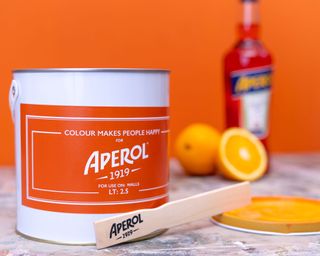 Exposing yourself to vibrant colors is one of the simplest ways to release dopamine in your brain- which then sparks energetic feelings that will make you feel a whole lot happier, pretty quickly.
'Bright and vibrant orange – as reflected in the well-known Aperol Spritz and its orange identity - represents fun, a sense of playfulness and joy,' explained Karen Haller, a leading global expert in the field of Behavioural Colour and Design Psychology.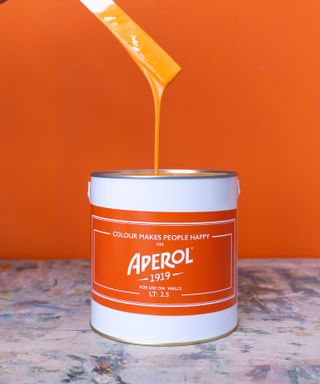 Karen continued: 'If you are looking to bring more of these emotions into your life, orange is the perfect color to incorporate into sociable spaces and interiors. Orange is also the color that aids in stimulating the appetite – so it's a great color to have in the kitchen to go with your early evening Aperitivo.'
I mean, what more excuse could we possibly need?
Among the stand-out pieces from the collection is the Aperol Orange paint, which was created in partnership with the boutique paint company- Colour Makes People Happy. A tin of paint is priced at £35, and all funds from this paint will support the Shaken Not Broken charity who is helping frontline bar staff impacted by the pandemic.
You also need to know about the Neon Spritz sign, the Pooky Kilda Table Lamp, and the Round Velvet Cushion that has come straight out of post-aperitif dreams.
Will we ever love anything quite as much as the Aperol A Casa Capsule Collection? Honestly, probably not.
If you decide to splash out on Aperol's paint, see our guide to painting a room: top tips on painting walls, ceilings, woodwork and more...