Searching for Amazon Halloween decorations to add a spooky, autumnal vibe to your home? Whether standard-issue Halloween decorations cramp your home's style (us too!), or perhaps you're on a budget so you want to shop at Amazon? Either way, we've scoured the internet for decorations that don't skimp on style. Here's your proof that the alternative to faux-cobwebs, flashing decor and inflatables doesn't have to be skipping the decorations altogether. Especially not where these chic Halloween decorations are concerned. Oh, and did we mention that these Halloween decorations we found at Amazon can be used year after year? So if you invest in 2021, you'll still be using them in 2024.
From spooky shaped candles to pretty faux pumpkins, wreaths that will make a grand entrance and some wow-worthy wall decor, these options look so good that we wouldn't totally blame you if you left them up year-round. Not just for the 31st of October, you can decorate your home with these now to start the festivities early. Why not make the most of your Prime membership? Trick or treat yourself to these Halloween decorations for indoors, we say.
Once you're done searching for decorations, head to our autumn decor ideas and trends for 20 ways to embrace the new season at home.
10 actually cute Amazon Halloween decorations you need to buy in 2021
1. Halloween bunting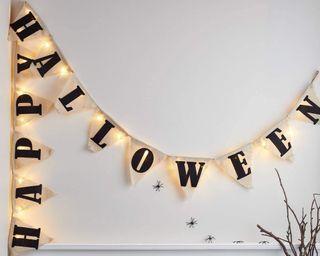 2. A Halloween plant pot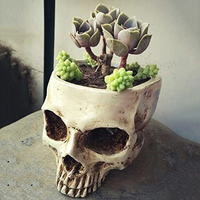 Qivange Skull Resin Skull Head Flower Pot | £18.99 at Amazon
Use this pot for planting succulents or even herbs, and display it on your coffee table or kitchen windowsill to wow guests or scare passersby. Alternatively, you could use it as a snack bowl, plus it's strong and sturdy so it will last for Halloween after Halloween. A great indoor halloween decoration that's scary yet stylish.
3. White pumpkins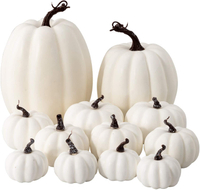 HBlife Assorted Sizes Artificial Pumpkins Decoration | £18.99 at Amazon
Scatter these artificial pumpkins around your home and nestle them in groups of mismatched sizes. Place them anywhere from inside your bedroom to your hallway and living room, and even place them on the floor. A total of 12 pumpkins come included in one pack, and they are totally Instagrammable. You can use them year after year...
4. Bat wall stickers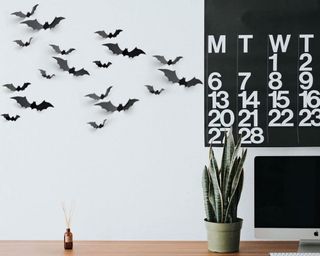 KUUQA Halloween Party Decoration Decal Wall Sticker | £2.59 at Amazon
These wall stickers are easy to use and effective once stuck on the wall. Stick them all together or dot them around your room to give the illusion they are flying, and bend their wings for a more realistic effect. Since they are made of PVC you can use them year after year, too. A bargain!
5. Pumpkin candles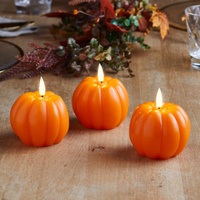 Lights4fun Set of 3 TruGlow® Halloween Pumpkin Flameless LED Candles | £26.99 at Amazon
Safe for use and fun for decorating your home with, these flameless candles are orange in colour so as to add a pop of colour, and they come in a set of three! Though dainty, these candles will definitely bring a spooky vibe to your home, plus they're safe to use around children and pets. And they are made with high-quality – and real – orange wax.

6. An autumn wreath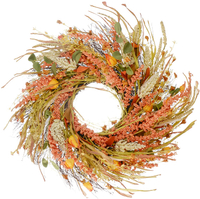 HooAMI Artificial Fall Wreath | £45.99 Amazon
For hanging on your front door or any of your interior doors – or even atop a fireplace – this wreath is artificial so that you can hang it with pride, year after year. Wrapped with red berries, maple leaves, colourful flowers and more, it's delightfully autumnal yet perfect for neutral interiors – and boho homes.
7. Artificial orange pumpkins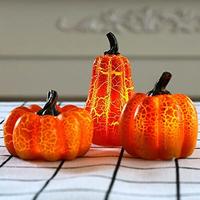 Fiorky Halloween Party Props | £12.99 at Amazon
With LED lights inside, these Halloween decorations are battery operated and made of resin. They differ in size and shape and you can place them anywhere from a coffee table to atop a dining table, or even on a chest of drawers or windowsill. Not just for decoration, too, as they even add light to your rooms. And they are a bargain!

8. Spider web fairy lights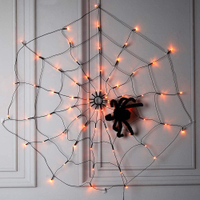 EAMBRITE Halloween Spider Web Lights | £19.99 at Amazon
Hang this spider web lighting on a wall or window, or even use it to spruce up your Halloween dining table setup. In the middle sits a plush spider, whilst it works at three lighting modes – including a flashing option! Just plug it in and place it where you want it to live.
9. Felt pumpkins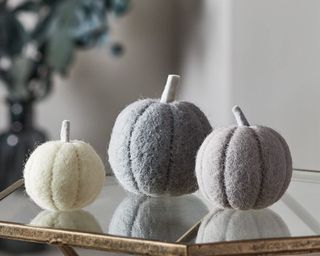 Lights4fun Set of 3 Felt Pumpkins | £18.99 at Amazon
Pumpkins, but make them felt – and artificial. These elegant grey and cream pumpkins will turn your home into an autumnal Instagrammable paradise. They're for indoor use and they are soft for safe use around children and pets, plus you can style them anywhere. We're kinda obsessed and tempted to buy a few packs.
10. Pumpkin string lights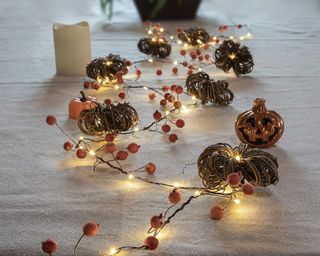 ZHONGXIN Halloween Pumpkin Lights | £21.99 £18.99 (save £3) at Amazon
These pumpkin string lights are adorned with berries and are perfect for table styling or hanging from a fireplace. The lights are even warm for an autumnal vibe, plus they are battery powered so that you can style them anywhere you like. We say they would be great for inside a bedroom, although they're completely versatile.