Sometimes shopping for the best home security systems for your home isn't about buying a top-of-the-range buy, but about your budget. You might not have tons of cash to splash, but that doesn't mean you don't have valuables to protect.
So, if your spend is at the lower end, you should hop over to Aldi – their SpecialBuys this week are home security products. There's everything on offer at low prices, from safes to padlocks. Below are our favourite buys, plus a few alternatives you can pick up at elsewhere on the internet. Where would we start? With a video doorbell – it's a neat way to beef up security and ward off potential thieves.
1. A home safe by Yale
Yale Electronic Digital Safe, £26.99 (opens in new tab)
We all have things that we wouldn't be able to live without. Keep these items secure from getting lost or stolen with this battery powered safe that can easily be mounted to the floor or wall. Featuring an override key just in case you accidentally get locked out, it's made with a secure steel constructed body, has 15mm steel locking bolts and internal hinges to provide additional security. It measures a neat 20cm x 31cm x 20cm.
2. A key safe under a tenner
4 Digit Key Safe, £9.99 (opens in new tab)
Keep your keys safe with this four digit key safe. Made with durable, tough aluminium with a dual cover to protect the locking mechanism from the elements, you can be sure it's perfect for keeping your keys secure.
Want to check out what else we rate? These are the best key safes 2020, according to our buying guide.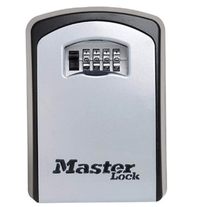 (opens in new tab)
Master Lock Key Lock Box | Was £32.89, now £21.67 | Save £11.22 (opens in new tab)
Find this large, wall mounted key lock currently discounted on Amazon. Its large capacity makes it suitable for storing multiple pairs of keys, while its sturdy design makes it capable of withstanding a variety of weathers.
3. An affordable CCTV camera kit
1080P 4HD Home CCTV Camera Kit, £154.99 (opens in new tab)
Protect your home with this easy to install 1080P 4HD CCTV Camera Kit. It comes with a pre-installed 1TB Hard Disk Drive which can store up to 60 days' worth of footage and allows motion detect, scheduled and manual recording. There are two bullet cameras and two dome cameras both providing 2MP of clear images. They're IP66 rated making them suitable for outdoor use as well. The downloadable free android and iOS Smart phone apps also allows you to remotely view the app while away from home. Powerful night vision means you can record in low light conditions at a distance of up to 20m, too.
4. A security light two pack, also under a tenner
Security Solar Light 2 Pack Bundle, £9.98 (opens in new tab)
Install these solar PIR security lights outside your home and deter thieves from breaking into your property. Featuring a 3m detection range with a 15 to 30 second illumination time, this Home Protector Security Solar Light 2 Pack is ideal for putting in your garden or dark spots outside the home. They work from dusk till dawn.
This our list of 2020's best security lights if you want to check out some alternatives.