The latest Aldi offers this week are possibly better than last week's (remember those bargain kitchen appliances?). Yup, just when we thought they couldn't get any more chic but cheap, their latest Specialbuys can have us all cheating a designer look on a low budget. We're talking plush new towels, cute accessories, handy storage and even marble bins. So, if you're looking for bathroom ideas to revamp your space without parting with a wad of cash, take a look at our edit of the best Aldi offers this week.
Check out our deals hub to discover where else you could be saving
1. Cotton rope storage basket to add texture, £14.99
The bathroom needs to be practical to look clean, right? We're talking gleaming hard floors, shiny taps and sparkling mirrors. (Be honest, a bathroom with carpeted flooring is kind of questionable). But although we love a practical room, adding a bit of comfort and interest by adding textures is a must. This Fabric Storage Bucket, £14.99, is made from (practical) 45 per cent cotton rope and 55 per cent polyester. It's perfect for storing towels, laundry or toiletries... and we think it looks pretty fab, too.
2. Egyptian cotton bathroom linens, from £3.99
Pampering yourself once in a while is so important and there's no better way than by kitting out your bathroom with luxe, lovely products and materials. Oooh 100 per cent Egyptian cotton towels from £3.99? Yes, please. You need to get your hands on these towels (there are hand and bath towels) – they're super-soft and absorbent. Also, check out the floor – that's the Egyptian cotton bath mat for £8.99 if you want to complete the look.
3. Accessorise with trendy glass storage, from £6.99
Accessories are the key to sprucing up a space without paint, drills or having to shower elsewhere for a month. We love this selection (above): the Tumbler & Soap Dispenser Stripe Set, £6.99, is on the left, and the Clear Storage Jar 2 Pack, £6.99, on the right. We'd be tempted to use those jars in the kitchen, too.
4. Marble bins and soap dispensers for a luxe hotel feel, from £4.99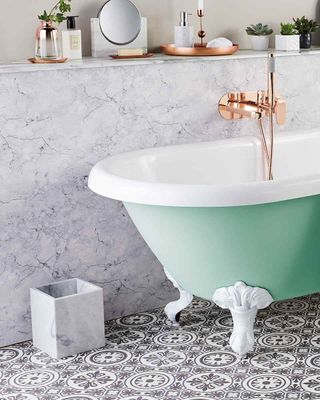 Marble is just one of those materials that gives any room an expensive feel – and it's a hot trend for the year ahead. So, what better way to get a designer look on a budget than with Aldi's Marble Bin for £19.99(above)? It has clean cut lines and just gives off those chic vibes. The Marble Soap Dispenser, £4.99(below), is a perfect pairing if you want to maintain that matching, hotel look room scheme.
5. Toilet roll holder for some sharp storage, £8.99
Okay, so hear us out. Maybe a toilet roll holder doesn't sound glamorous but bathroom storage is the key to keeping your space looking sharp and clean. This Kirkton House Toilet Roll Holder, £8.99, can hold up to four toilet rolls and is made from stainless steel. The metal weight base means stability and the rubber feet will prevent slipping.
6. Handy bathroom storage, from £3.49
Renting and can't drill into walls and doors? Or just hate DIY? These Kirkton House over door bathroom storage hooks, £3.49 (above), are the perfect solution. Get a pair and keep one in the bedroom, too.
Loving this Kirkton House storage caddy, £16.99, too! It can, of course, house all sorts of bathroom paraphernalia, but we think it could be useful as extra storage for a bedroom or kitchen, too.
Read more: