Looking for fabulous garden ideas to keep the kids happy over the holidays – or to take away with your on your staycation? These aren't quite the waterparks in Spain you'd had in mind back in chilly January, but they are fabulous, generous sized pools, including the new one from Aldi, back in stock in stores tomorrow (or so we're told; fingers crossed!). If you can't get the Aldi pool in time before it – inevitably – sells out, we've come up with a ton of mail order alternatives, listed below in price order.
And, just because we can, we've thrown in the Aldi kayak – and, obviously, a few alternatives that shouldn't go out of stock faster than you can say, 'Er, I can't fit this kayak in my basket'.
The best pools from Aldi and beyond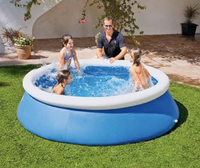 Bestway Quick Up Round Family Pool | £40 at Argos
This 8 ft. pool offers plenty of fun for all the family. Quick to set up, it's deep enough that little ones will enjoy getting their goggles on and going for a little swim.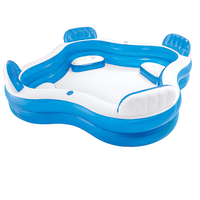 Intex Swim Centre family pool | Was £49.99 now £40.25
Like the look of the paddling pool up top? It's at an AMAZING price for what you get: there are built-in inflatable seats (for parents, we reckon), two drinks' holders (ditto) and a floor plug for easy draining. It measures W2.29m x D2.29m x H66cm.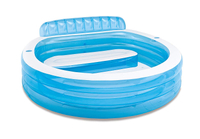 Intex Family Lounge Pool | Was £59.99 now £50 at Amazon
Can't you just see yourself lounging about in this fantastic paddling pool over the summer holidays. There's an inflatable bench and a headrest. Just fill it up, pour yourself a drink and relax. That's if it's not full of children, obvs. It measures W2.24m x D2.16m x H76cm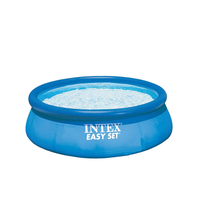 Intex Easy Set Pool | £74 at Amazon
We love this pool type (oh yes, we've tried and tested it): you simply pump up the rim then the water does the filling out of the pool. So, it's so much less effort to get up and running. This pool type folds up pretty small, too. This one's 2.43m in diameter and 76cm high, but other sizes are available.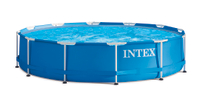 Intex 12ft Metal Frame Pool, £89.99 at Aldi
This easy to construct, durable steel frame pool is just the thing for a warm day at home with the family and is a great spot for little ones to practice their strokes without having to leave the house.
And now for kayaks...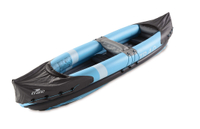 Crane Inflatable 2 Person Kayak, £39.99 at Aldi
For more summer activities on the water, why not take yourself and a loved off on a wonderful adventure with an inflatable kayak? This kayak has two main chambers for two adults, and comes with a double paddle, waterproof storage bag and match bag, making it ideal for days out on the lake.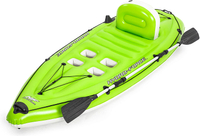 Bestway Hydro-Force Koracle Fishing Boat, £109 at Amazon
Perfect for fishing, this kayak has built in fishing rod holders to keep your line in the water and elastic cords in the front and back for storage. Easy to carry, it has carry handles and a wraparound grab rope for easy transportation and built in oar clasps to hold the included paddle. Made from durable PVC.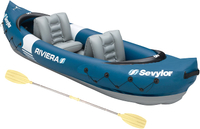 Sevylor Riviera Two Person Kayak, was £139.99, now £120.30 at Amazon
This sturdy two man kayak, ideal for lakes, fishing and sea shores has a broad shape that combines stability and comfort when out on the water. The two inflatable kayak seats are easy to adjust and remove, while the integrated pressure gauge gives you accurate inflation. The hull is made of durable PVC.