Own a Nespresso machine? Buy these Aldi coffee pods to cut the price of your daily brew and save a mint. Whether you prefer Columbian coffee, your normal run-of-the-mill espresso or something as fancy as a lungo, this bundle pack includes it all. And they're ALL compatible with Nespresso machines.
We think this is an ideal purchase for someone who loves to experiment with their caffeine. The bumper pack includes 10 pods of six different types of coffee, all for just under £9. That's 15p per drink. Can you believe it? We can't. Especially since 50 Nespresso pods cost just under £24 on Amazon. These Aldi coffee pods are a bargain, trust us.
Want more info and where to purchase? Scroll for the deets.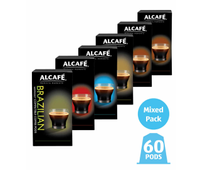 Coffee Lovers Bundle 6 Pack | £8.94 at Aldi
Choose from a strong and rich ristretto coffee, a deep espresso, an aromatic and smooth lungo, an intense Columbian or a smooth Brazilian coffee each day. You'll get 10 of each flavour, 60 in total AND they're sold both in store and online. We're not sure how long for though, so you'd better hurry to bag this incredible bargain. If we were you, we'd even stock up for the colder months ahead. Less money buying a brew each day means more money to spend on those all important Christmas presents. You'll thank us later.