At a loose end this weekend and in need of fun upcycle ideas to fill the time? We've got the perfect idea for you. Using just three paint colours, a bit of imagination and some creative flair, it's simple to turn a bland set of drawers into a statement piece with this animal print effect. With everything from leopard to tiger print all the rage in interiors right now, it's a budget-friendly way to grab a slice of the animal print action.
Want to give it a go? Read on for step-by-step instructions on how to achieve it, then take a look at other craft ideas on our dedicated page.
Thanks to Rust-Oleum and instagrammer Sofie from threeboysandapinkbath for this fab upcycle idea.
If you want to try your hand at more DIY ideas, check out our other weekend projects
You will need:
Step one: clean your furniture
This project uses a basic chest of drawers, but you could create a similar animal print effect on an old wardrobe, bookcase or sideboard too.
Thoroughly clean the item of furniture you're upcycling to ensure the surface is free from dirt and grease before painting. Wipe it down with a sugar soap solution and allow to dry. It's a good idea to either remove handles and drawer pulls, or cover them with masking tape to prevent them getting covered with paint.
Step two: paint the background colours
Remove the drawers from the unit and start painting the unit. Use a roller to paint the drawer fronts, top and base of the unit in your main colour. For this project, the main colour is Rust-Oleum's Satin Finish Furniture Paint in Carbon – this particular paint doesn't require any sanding or a top coat, which means it's a quick and easy option for upcycling furniture.
Next, paint the sides of the unit in a contrasting shade – Rust-Oleum's Satin Finish Furniture Paint in Cotton has been used here. Allow to dry and apply a second coat if necessary.
Step three: paint inside the drawers
To give your drawers a touch of glamour, paint the sides and inside of the drawers in a metallic gold, which will tie in with the details for the animal print (see below). Rust-Oleum's Metallic Finish Furniture Paint in Gold has been used here. Allow to dry.
Step four: create the animal print design
Before adding your animal print design to the white sections on the side of the drawers, test out your technique on paper first to make sure you're happy with the overall effect.
Dip a sponge in the black paint (removing any excess paint on an old cloth if necessary), then dab the sponge onto the surface to create a series of random spots. You're not looking to create perfect circles – the more random the better. Allow to dry.
A top tip is to cut out some sections from the sponge to help create a more varied print.
Step five: add the gold details
Using a medium sized paintbrush or the sponge, apply a blob of metallic gold paint to the centre of a large number of the black circles, creating the finished animal print effect.
Once everything is completely dry, reattach the handles. If you want to minimise costs, simply update the original handles with a gold metallic paint for a more polished look. If you're happy to splash out on some new handles, take a look at Etsy for a wide range of styles. Or we love these designs from Sasse and Belle and Graham & Green.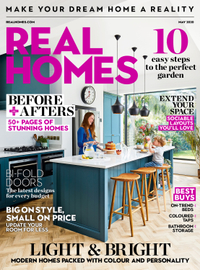 Get Real Homes magazine delivered direct to your door or device
Can't get to the shops but don't want to miss out on the latest issue of your favourite homes magazine? Don't worry as you can subscribe in our Spring Sale and have every issue of Real Homes magazine delivered direct to either your door or your device.
From stunning completed projects to the latest decorating ideas you can try in your own space, you'll find plenty to keep you entertained and inspired inside each issue. Don't miss our spring sale – subscribe to either our print or digital subscription offer today and you'll receive five issues for just £5.

More upcycling projects to try