Yale Home Security systems have been around for years. We're talking 180 years of making you feel safer in your homes. Since they began there's been a lot of development, especially smart security more recently, which has meant that these types of products have become more accessible for us as our knowledge about them continues to evolve. And that's all credit to Yale who have, by the way, just snapped up the Best Smart Home Product in the Real Homes awards.
A report released just last year by Park Associates (U.S.) shared that 47 per cent of those intending to purchase a home security system, prefer a system with remote access, status, and control available from a smartphone. This figure not only confirms the needs and wants of households, but also indicates the future direction of home security systems.
Since attending a (virtual) event earlier this month, we were keen to catch up with Yale about their home security products, how they could help you and I feel more secure in our home and what they're working on for 2020/21. Good timing, really, because one of our themes this month has been security so we thought that it would be rather apt to get behind these guys, and some other big-named brands, to delve a little deeper into the spec behind their products.
Keep scrolling for some top home security insight from a top specialist – plus some new product launch info (you're the first to hear it!) and today's top deals.
Home security system advice from Yale
Duncan Chamberlain, MD at Yale UK, shares some insight in our Q&A session: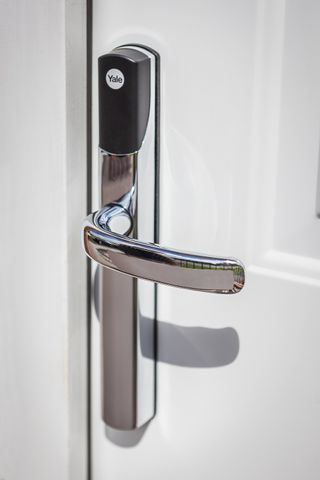 1. Why should households enhance their home security?
Enhancing home security can not only save the homeowner from the emotional impact but also the financial impact of being burgled. Security is about freedom and peace of mind, with enhanced security consumers can go about their daily life, not worrying if their home is secure.
It's important to consider all aspects of the home which could come under attack and the additional security required to create a multi-layered security system, such as safes, bike locks, padlocks or 3-star cylinders. When contemplating home security, also consider insurance standards, installing British Standard locks for example, can help to comply with home insurance policy terms and conditions
2. What is the first thing you should consider, if you want to enhance your home security?
A good place to start is knowing you have all the basic security measures in place. For example, are your door locks kitemarked, do the window locks work, are any gates securely locked and is there a weatherproof padlock on your shed. It's surprising how many people don't have any security measures in place.
Introducing smart security products into the home is an effective way to enhance home security and make your daily routines more convenient. For example, when using the Yale Sync Alarm and Yale Conexis L1, the Sync Alarm will automatically disarm when the Conexis L1 is unlocked, when used in conjunction with a sync module. You can also check and change the status of your alarm, or part arm your alarm all via your smartphone. These products also work with Yale partners, including Amazon Alexa and Google Assistant.
3. How can Yale help to boost home security?
Yale offers something for all security needs, whether it be a fully integrated smart security system with smart alarm, camera and smart door lock, or a more traditional padlock for a shed, a safe for your valuables or bike lock for your weekend bike ride, our products are designed to make sure homes and possessions are kept secure.
As a brand, they have 180 years of expertise in locks and security. Through supporting campaigns, such as the annual National Home Security Month campaign which runs throughout October and a dedicated customer support team, Yale aim to help provide consumers with advice, product information and security knowledge.
Their security products, also, have proven industry standards, as defined by the BSI (British Standards Institute). Conexis L1 was the first digital lock to achieve the BSI standard for locally connected smart door locks, providing added reassurance for homeowners.
4. I'm on a tight budget. What is the best Yale product for me and how could it help?
If you're after a smart product I would suggest the Yale All-in-One Camera, as it combines a high definition camera, motion detection, a siren and a built-in spotlight all in one. The camera is multi-purpose as it is suitable for indoor use and, with its IP65 rating, is suitable for outdoor use, too.
For those not necessarily looking for smart security then upgrading your door lock by replacing your cylinder is a simple yet invaluable security enhancement. Ideally you should replace cylinders with a 3-star cylinder, to help protect against the most common forms of attack such as picking, drilling and snapping. Plus, it's a really easy DIY job, with lots of online 'how to' guides that can help.
5. What is the best Yale product or feature (in your opinion) and why?
There has been a lot of development around smart security products at Yale over the past couple of years and I think one of the best features of all the smart products is the ability to create an ecosystem.
The Yale Smart Locks, Home Alarms, Outdoor and Indoor cameras all work as standalone products or you can connect them all with each other and our trusted partners to create a smart ecosystem. The products are designed to fit into your home and life, making your lifestyle easier without noticing them. They even work with voice assistants Amazon Alexa and Google Assistant so they can be controlled using just your voice, and the Sync Smart Home Alarm integrates with Philips Hue which means that lights around the home flash red when the alarm sounds.
6. And finally, which new Yale products or features should I look out for in 2020/21 and why?
We're excited to be launching a new smart lock to the range in 2020, the Linus allows its users to lock and unlock their door – no matter where they are. The new lock has a very clever functionality which lets you automatically unlock the door when returning home with its geo-location function. Plus, it uses door sense technology so no matter where you are in the world you can check on the status of your door and be reassured that it's completely locked. These are new functionalities which will be extremely useful to homeowners, as well as helping to protect their homes.
We have also updated our range of Wi-Fi cameras. The range includes a new pan and tilt indoor Wi-Fi camera which tracks movement in a room, and you can view content on your smartphone, so there is little that can be missed whilst you're away. Other improvements include increased night vision across the range of Wi-Fi cameras, so even in the dark you can see up to 10 metres.
We do have another smart lock set to launch in 2021, the Conexis L2, an upgraded version of the popular Conexis L1, it will bring much more functionality and convenience to the user.
Looking for more specialist home tech advice?