You've (probably) all heard that Ring can enhance our home security but there are still some questions around: do I actually need it? Where do I start? There's now a huge range of products on offer which have evolved tremendously since the brand launched in 2012 and (we must say) we are a big fans – in fact the Ring Video Doorbell 3 Plus has just won best security camera in the Real Homes Awards.
A recent report released by Ring – Home: A New Meaning – has cited that a quarter of Brits say that spending time at home during lockdown has made them consider the security of their home. And 91 per cent of consumers feel their home was safe during lockdown, with one-in-10 citing investment in home security products as the reason why they feel safe.
These facts really do speak for themselves. And you may, or may not, have noticed that one of our themes this month has been security so we thought that it would be rather apt to get behind some of the big-named brands in home security to delve a little deeper into what exactly their products can do for us and our homes.
Scroll down for some top home security insight from a top specialist – plus today's top deals.
Home security advice from Ring
Dave Ward, European Managing Director, Ring, shares some insight in our Q&A session: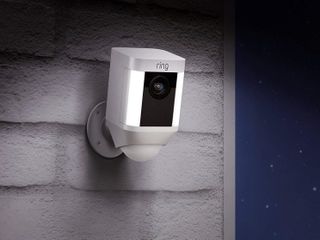 1. Why should households enhance their home security?
Every household wants their family, home and things you care about to be safe. Feeling secure in your home and in your neighbourhood is vitally important and enhancing your home security can help you achieve this. From keeping an eye on your home from wherever you are, to setting your alarm while on the move, there are simple but effective ways to make your life easier, safer and more convenient.
2. What is the first thing you should consider, if you want to enhance your home security?
The first thing to consider is your personal home setup, looking at the parts of your home that are most vulnerable and would require additional security measures, as well as the kind of security products that will suit your specific lifestyle. For example, you may live in a rented property so need devices that don't require permanent modifications to the home, or you may be concerned with keeping an eye on dark corners in your garden so need a device that triggers floodlights when motion is detected.
From video doorbells and home security cameras to DIY security systems, Ring offers a wide range of security products to allow for whole-home security that can be tailored to your specific needs.
3. How easy are the Ring products to install and use?
All of our products are designed with ease of installation and simple setup in mind and come equipped with clear instructions, plus the tools you'll need to install. The free Ring app lets you control and link all of your Ring security devices in one place, review recorded videos and alerts, view a live HD video stream of your cameras and speak to anyone with two-way talk.
One of our latest features to help give users greater control over their Ring devices is Modes, an in-app feature that simplifies how you interact with your Ring devices. When enabled, users can customise how their Ring devices operate using three different modes: Home, Away and Disarmed, with each setting giving you varying levels of customisable motion detection, recording and activity.
4. I'm on a tight budget. What is the best Ring product for me and how could it help?
It's important to assess what home security product will most benefit you. At Ring, we have a number of products in our range that are great for those on a budget.
Indoor Cam is a compact security camera, small enough to fit anywhere inside your home, with an RRP of just £49. Stick Up Cam
can be used inside and out, on all surfaces including tables and walls, for an affordable £89 (RRP). Both of these cameras will allow you to see what is going on in and around your home while you're away and offer great flexibility and quality video footage. Our video doorbell range starts at £89 for the Ring Video Doorbell (2nd Gen), allowing you to keep an eye on your home from wherever you are.
5. What is the best feature (in your opinion) of a Ring product?
Ring is on a mission to make neighbourhoods safer by creating a Ring of Security around homes and communities with its suite of valuable and effective home security products and services. Ring devices offer a great range of customisable features to suit different home setups, including compatibility with Alexa devices, as well as Near Zones and Privacy Zones to give you greater control over the motion alerts that matter to you most.
One feature I'm particularly proud of is Linked Devices. With Linked Devices, I can connect all of Ring devices together within the Ring app, to ensure that my device setup works best for me. So, if I'm not home and my Video Doorbell detects motion, with Linked Devices, I can make sure my Indoor Cam immediately starts recording too, so any unexpected motion is captured. Another favourite of mine is Modes. When I leave the house, I simply have to choose "Away" Mode in the Ring app (or via Alexa), and all of my devices activate. When I get home, I can change the Mode, to make sure that only my outdoor devices are active, leaving me and my family free to roam around without activating my Indoor Cams. It's control and customisation, all from the Ring app.
Looking for more specialist home tech advice?