With so many other concerns ahead of the uni year, home security tips might not be what this year's students are busy researching in time for fresher's week. As a parent, you may have given it a little more thought – after all their safety is your prime concern – but we certainly don't expect that anyone is furiously looking up the best home security systems for their student digs.
Yet with nine percent of students in the worst affected areas experiencing crime in the last 12 months1, security should be given a little more thought. It must at least be read up on before they order all the expensive kit they plan to take with them. So what can students (and their parents) do to reduce the risk of becoming a victim of burglary? Read on for simple tips everyone can take with them.
1. Get good insurance
While most of these tips are about crime prevention, having good insurance should the worst happen is very important, too. Students assume they are covered by university insurance in halls or sometimes their parent's home contents insurance. Some universities do have this included as part of your accommodation, even some private landlords do, but always check. Even if you are covered, you might need extra cover for bikes or things you use around campus such as your laptop. Read the small print to ensure everything you take with you can be compensated for.
2. Lock doors and windows
This is such a simple one, but so many students leave their room unlocked when they go out, or leave windows open while they are busy in communal areas. In the time it takes to pop to the flat next door to borrow something, a criminal could be in and out, with your laptop or TV. Break ins also happen when the whole flat are on a night out. We all know after pre-drinks locking the door as your rush for the taxi can often go out of the window.
Locking your bedroom gives any opportunists an extra barrier should a housemate leave the front door unlocked. And ground floor windows should be fitted with locks that are hard to open from outside, or limit the opening to anyone not in the room. On top of this, don't leave anything that could be swiped in reach of an open window.
Break ins often happen when the whole flat are on a night out. We all know after pre-drinks locking the door as your rush for the taxi can often go out of the window.
3. Invest in basic home security tech
Once you move out of halls to local accommodation, you can't rely on the measures your university takes to ensure good campus security. Private landlords will do their best to make sure windows and doors have good locks, but there are simple bits of tech you can take with you to up your home security.
There are plenty of affordable security cameras that are battery powered and can be fitted without the need to drill holes – perfect to take with you when you move on. Always get consent from the rest of the household before fitting any devices that impact on their privacy. You might want to have the camera trained on entry and exit points, but not habitable areas.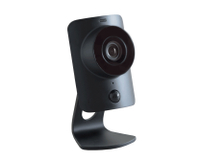 SimpliCam Security Camera | Only £49.99 on Amazon
This budget-friendly security camera is freestanding – just find a place to pop it near a socket. It has HD recording, 24/7 and sends intruder and motion alerts to your smart device. Outside units are available too, so you can adapt your system to suit your needs.
You can also get door and window entry sensors which which alert you when a door or window is opened. These offer not only peace of mind, but are a good deterrent to burglars and will prevent them from trying a door or window where one is obviously fitted.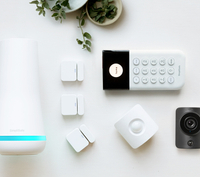 SimpliSafe The Essentials security kit | Only £309 for the system on Amazon
This set from SimpliSafe consists of one motion sensor, a security camera and three entry sensors. Fit the entry sensors to ground floor entry points and you will be notified when they are opened. Paired with the motion sensor and camera, you can protect and monitor your flat both when you are at home, or away for the weekend.
4. Don't show it off
Breaking into a property is a risk, so burglars are more likely to go after houses that they know have plenty of things worth stealing. Never leave laptops, bikes and games consoles in full view from the street. That could mean stowing tech away in a drawer or cupboard when you leave the house. Also shut curtains or blinds to obscure valuables from view in the day and don't leave bikes anywhere that they can't be locked up or locked away.
You might want to leave your most valuable possessions at your parent's home. Laptops are essential, but you can make it through the uni year without your diamond jewellery, expensive designer bags and top of the range televisions.
5. Keep thieves guessing if you're out
An occupied property is less appealing to criminals so they will look for signs that you are in. Some will monitor a property for several weeks, getting an idea of when people tend to be in or out. Your regular lecture schedule could become a weakness in your home security. But before you go skipping seminars to protect your pad, think about ways to make thieves unsure about whether anyone is in. Lights on timers are great for evenings – you can even get smart lighting that you can control from your phone to really fool them. In the day time a good tip is to use a rear exit where possible so that anyone watching the house can't be sure which property you have left. Everyone walking out of the front door can be a dead giveaway.
Students love a lie in too, so leave a set of bedroom curtains shut and burglars may assume somebody is having a duvet day. Again, this makes the house less appealing for break ins.
1. Crime stats acquired by The Complete University Guide
More home security advice: