Be honest, do you prefer your pets to most people? Yep, us too! If you want to make sure your cat, dog or even rabbit is the most pampered pet in town, then it's time to invest in tech to make sure they're safe, happy and healthy. As part of the Real Homes Show, our online TV show, we asked tech expert Verity Burns to choose the five gadgets that every pet owner needs in their lives. Here's what you need to get your paws on (sorry).
1. Keep an eye on them with a pet camera
Firstly, you need a connected camera. Keeping an eye on your furry friend when you've nipped out is super helpful, if just to make sure they're behaving themselves when you're not there.
Any connected camera is great for this, allowing you to view a video stream of your room from your phone, but the Nest Cam IQ Indoor is particularly good as it can tell the difference between people and pets. That means it can double up as a security camera, letting you know if it spots any humans but turning a blind eye to your pets padding around the place. There's also two-way communication so you can speak to your dog from afar, and tell them to get off the sofa!
For something that your pets will really love, though, Furbo is a HD pet camera that offers the same live video streaming and two-way communication, and it can even throw your pet a treat!
2. Invest in a robot vacuum cleaner
If you've got pets that shed hair, you need a robot vacuum cleaner in your life. While a robot vacuum cleaner won't replace a proper manual vacuum, they are brilliant for keeping on top of pet hair day to day.
The Neato Botvac D750 Connected Premium Pet Edition is the company's top pet-focused model and features all the things that the company is famous for – its D shaped design for getting flush to walls and deep into corners, the ability to learn and memorise your home's floor plan, and the ability to draw "no-go" areas within the app, keeping it away from pet beds and pet bowls. It'll handle all types of flooring, and comes with a specially designed brush for clearing up pet hair. It'll run for 120 minutes and will take itself back to its dock for charging when it's needed – there's even Alexa compatibility so you can set it going with just your voice.
3. Monitor their movements
In third place, invest in a combined pet tracker and activity monitor, like the Findster Duo+, which retails at £139.99. The Findster allows you to know where your pet is at all times, giving you peace of mind in case they get off their lead during a walk, or sneak out of a gate that's been left open. It'll give you real-time notifications as to their location, and will even notify you immediately when a pet sneaks outside a virtual boundary that you set up within the app – such as your house – so you catch up to them quickly.
The activity monitor gives you at-a-glance stats as to how much rest and activity your dog has had that day, so you can be sure their needs are being met. You can track up to three pets within the app, too.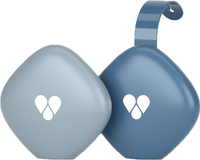 Findster Duo+ Pet Tracker | £139.99 on Amazon
GPS pet tracker without monthly fees – a real-time pet locator and a pet fitness & activity tracker that rewards you for keeping your furry friend healthy. Findster Duo is the ideal solution for extra safety during walks - and the best in class of wearable technology for pets.
4. Smarten up your pet flap
Having unwanted furry visitors in your house is the problem with standard cat flaps - the Sureflap Microchip Pet Door With Hub stops that by reading your pet's existing microchip and only allowing access to your animals. In fourth, invest in a Sureflap Microchip Pet Door With Hub, at £129.99.
The included hub connects the pet door to your phone so you can keep track of when the door is activated from the app, and check in on patterns to notice any change in behaviour. You can even set up different permissions for different pets and lock the door from afar should you decide it's time for them to stay put.
5. Keep their food fresh
Finally, ensure your pet has fresh food, even when you're away at dinner time with the Petkit Fresh Element Pet Food Dispenser, which retails at £140. It will mean that your pet doesn't have to wait past their meal times for their food, measuring out the amount you've preset perfectly. It can store up to 6lbs of food, with a silicone seal to keep it fresh.
You can schedule the times you want the food delivered via the app, but it is also compatible with Alexa so even when you are home, you can get the pet's food sorted handsfree, while you juggle the dinner times of the rest of the household!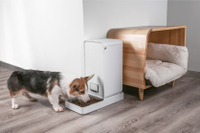 Petkit Fresh Element Feeder | £180.76 on Amazon
This is a feeder that can double-lock the freshness of dry pet food, never gets stuck and always feeds as your plan. You can set up the feeding plan and long-range remote control your feeder via the Petkit app.
Check out these related articles: