Untouched for 60 years, without mains water or central heating, and with chronic damp problems, the dilapidated former farmhouse would have held little appeal for most people. Melissa and Charlie Jolly, however, aren't your average househunters. The couple are seasoned renovators and updated their five previous homes.
This time, however, they were looking for somewhere rural with plenty of outdoor space for garden designer Melissa to enjoy, and somewhere to suit the family's changing needs as their children grew up. The couple cast their net wide in the search for the perfect project, never suspecting it would be right on their doorstep. Or, strictly speaking, on Melissa's parents' doorstep.
Inspired to tackle your own project? We have masses of ideas and helpful advice on what to do and where to start in our feature on house renovation. For more real home transformations, head to our hub page.
THE STORY
Owners Melissa and Charlie Jolly live here with their, son Sam, 17, daughter Amelie, 14, Jack the Jack Russell cross, and Fish the cat. Melissa is a garden designer (melissajolly.co.uk) and Charlie works in corporate finance.
Property A farmhouse near Reading, Berkshire, with almost an acre of garden. The property was built in around 1780 and extended in Victorian times. Originally a six-bedroom house, it now has four bedrooms, two bathrooms and an en suite.
What they did The couple replaced the roof and tackled the damp issues, digging out earth that had built up against the house walls and replacing cement renders with lime plaster before radically altering the interior layout.
'The farmer told my mum he was selling his father's old farmhouse, and she booked us a viewing before even telling us about it,' says Melissa.
The house had been separated from the rest of the farm, and was up for sale with just under an acre of land. With its familiar setting surrounded by the fields Melissa had played in as a child, it seemed an opportunity too good to miss.
'We've done house projects all our lives and this was a dream come true,' says Melissa. 'It was in a great location and had a lovely feel, plus I'd always wanted to live on a farm. Charlie and I agreed it was perfect, but wondered if it was feasible.'
In reality the house was far from perfect. It had serious damp and structural problems, and was being held up by acrow props. Melissa called on some trusted builders and a structural engineer they'd used in previous projects to get their thoughts, and managed to convince the mortgage company that the house could be habitable.
From then on the renovation became a family affair. Melissa turned project manager and she, Charlie and their two children moved into her parents' house next door. It helped greatly that her mother Jeanne is an architect and was able to draw up plans, advise on specialist builders, and be a sounding board for Melissa's ideas on reconfiguring the higgledy-piggledy farmhouse.
'There's no room in this house that's on the same level as another, so it was difficult to make it all work,' says Melissa. 'But first we had to get the damp under control. We worked from the top down and replaced the whole roof. We had to take the ground level down in the garden – as it was up the sides of the house, feeding water into the walls.'
'We had a damp report done that advised chemical injections and waterproof plaster, but I wanted to take a more holistic approach,' says Melissa. 'Reducing the ground levels and fixing the roof and gutters was a good start and I found out that we needed to get every bit of concrete and cement render off the walls. We employed a specialist who used lime plaster inside and out, and we used breathable woodfibre insulation. Since then we've had no damp issues at all.'
There were many more challenges to overcome, however. Like the day Melissa and Charlie found out that both bays at the front of the house were hanging on by a thread. 'We had only intended to rebuild one of them, but we knew if we didn't replace both at the same time while we had the scaffolding and roofers on site, we'd have even more expense at a later date.'
There were two equally problematic options for getting running water to the house. One was to run the supply from the nearest mains water point in the middle of a children's charity's outdoor play area and dig through ancient woodland. Loathe to disrupt the charity and woodland, Melissa and Charlie opted for the second option: a borehole.
'We were told if you dig down far enough you will eventually find water. But when the contractors broke a drill bit at 60 metres, and had to reposition the drill and start all over again, we seriously began to wonder if we'd ever have running water,' says Melissa. They got there in the end and water is now on tap, with a bio disc system to treat all waste, so only clean water goes out.
This had always been a working farmhouse so there were few decorative details but rather a simple, functional style, which Melissa took as her cue when updating the décor.
While the builders were working on the house, the couple spent their weekends clearing the garden, starting with one important detail. 'On our first viewing I spied an original Crittall greenhouse, which I loved,' says Melissa. 'But it was right by the house wall so we took it down and rebuilt it on its brick base in another part of the garden. It would have been far easier and cheaper to buy a new greenhouse, but I'd set my heart on keeping it.'
Many things have changed for the farmhouse in the years since Melissa was growing up next door. With oil-fired central heating, it's warm and dry at last. The barns are now offices and workshops, and instead of animals in the farmyard, office workers come and go in their cars.
Yet all around the land is still farmed, and the house exudes those same special qualities of welcome and peacefulness that struck Melissa as she first stepped through the door. 'We're assuming we'll live here forever. We're definitely not planning another project,' she says. 'But never say never.' From a couple who thrive on renovations, that's as much of a commitment to staying put as you're ever likely to get.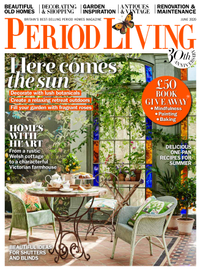 Subscribe to Period Living for more inspiration
A subscription to Period Living provides you with all you need to know about caring for and improving a traditional garden – and also how to decorate, renovate and maintain a period home.
More inspiring farmhouse renovations: