Every year we invite readers to enter their completed home improvement projects for our awards, and it's always fascinating to see the diverse and inspiring schemes in all kinds of period properties, large and small, and to hear their unique stories.
The winners have now been selected, and we are delighted to present a preview of the beautiful homes and garden that captured our judges' attention – and their hearts too.
You can read the full stories behind the four winning homes and the winning garden in Period Living's November 2018 issue, on sale now.
Winners of the Best Listed Home category and our overall prizewinners
Winners of our Best Interior Style category
Best Project winners
The winner of our Best Kitchen category
Winners of our brand-new Best Garden category
READ THE FULL STORIES IN THE NOVEMBER ISSUE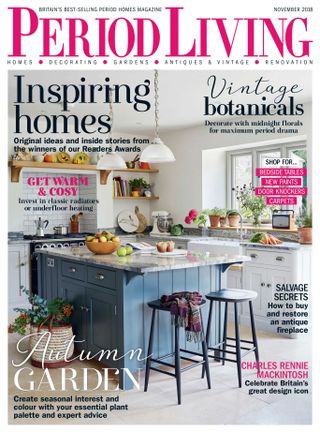 Thanks to the sponsors of the 2018 Period Living Readers' Homes Awards…
BEST LISTED HOME – SPONSORED BY RICHMOND OAK
Listed homes come with a whole set of restrictions and challenges. We're looking for properties where those challenges have been met with sensitivity, in a large or small scale listed building.
Enhance your home with a stunning hardwood glazed living space. Richmond Oak specialises in the design, planning application and build of bespoke seasoned oak orangeries, conservatories and garden rooms.
BEST KITCHEN – SPONSORED BY FOLDING DOORS 2 U
If you've completed a kitchen update – whether that's adding an extension or refreshing the cabinetry – we'd like to see the results of your hard work.
Folding Doors 2 U is a leading supplier of aluminium rooflights, bi-fold doors, sliding doors and windows. The company offers an affordable range of high-quality aluminium glazing products to enhance any home extension, new build property or renovation.
BEST PROJECT – SPONSORED BY ICYNENE
This is the category for renovations, extensions, remodels and conversions, including lofts and basements. If you've significantly altered your living space, show us what you've achieved.
Icynene spray-foam insulation is suitable for all building types from new-build to heritage. It expands 100-fold when applied, sealing all gaps and helping to reduce fuel bills.
BEST INTERIOR STYLE – SPONSORED BY VANESSA ARBUTHNOTT
For this category, we're on the lookout for inspiring interior design, showcasing a stylish use of colour, pattern and furnishings either in a contemporary update, or an authentic look in keeping with the age of your home.
Whether you live in an old farmhouse, Victorian semi, humble cottage or a gracious manor house, there is sure to be the perfect fabric or wallpaper among Vanessa Arbuthnott's exquisite ranges, encompassing contemporary shades and designs, and more traditional rural motifs.
BEST GARDEN – SPONSORED BY MAZE LIVING
New for this year, the best garden category where you can show off not only your garden designs but your green fingers. Send in your photos of your outdoor spaces in full bloom.
Maze Living is a leading garden furniture specialist, offering a range of luxury outdoor rattan and fabric furniture sets. From dining to sofa sets, each piece has been expertly designed with a blend of comfort and style, perfect for any garden.
Our guest judge
Period Living was delighted that textile designer Vanessa Arbuthnott could join our awards judging panel again this year.
Vanessa started her business from her own home 18 years ago, and since then has created 17 fabric collections inspired by her passion for natural forms, organic shapes and stunning colourways.
Her ranges include wallcoverings, rugs and runners, as well as made-to-measure curtains and blinds, furniture and accessories.