Buying antiques might seem like a bit of an intimidating thing to get into – how do you know pieces are legit? Where are the best places to buy from? How do you make antiques work in your home? Well, fear not, we have you covered right here with our guide to how to find the perfect antiques to mix into your home.
The rise of trends like cottagecore, grandmillennial and everyone striving after a more 'lived in' look, loads of people are buying second hand and checking out the world of antiques, us included! And it's fun; scouring the internet for amazing one off finds? Yes please! It really doesn't have to be a minefield, especially with online marketplaces like eBay making it more accessible than ever to buy antiques and second-hand pieces.
We've got plenty of tips to help you find the perfect pieces and how you can style them in your space...
1. Look out for shapes and styles you love (not colors)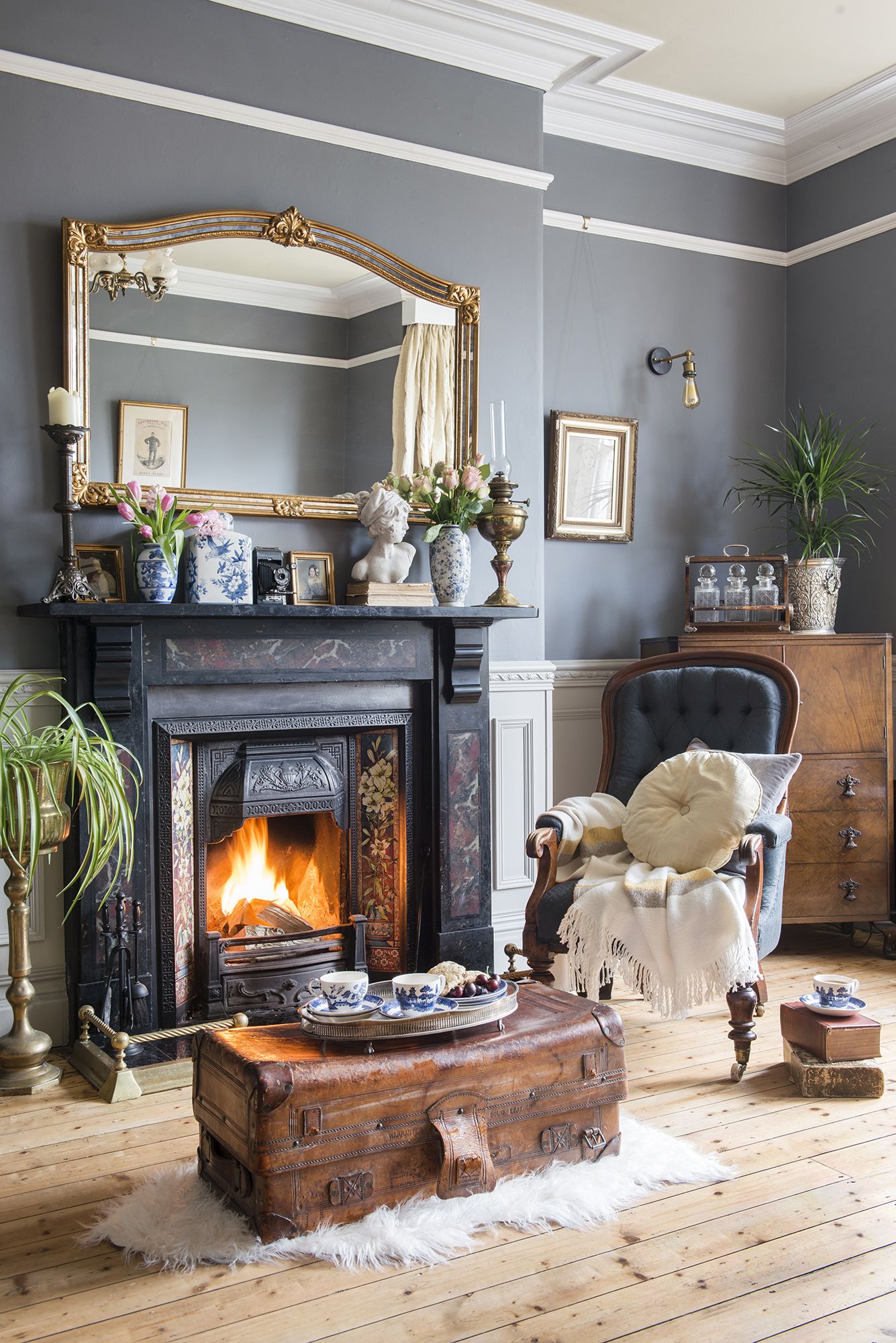 Remember you aren't necessarily looking for a 100 percent-perfect piece. Try and find the shapes and styles that you like and see through any funky paint colors or dated wood stains. You can repaint pieces, strip them down or get them reupholstered so don't be too fussy – plus you might find you get a better price if you have to do a bit of an upcycle job.
We would also say when starting out mixing antiques into your home, it's totally okay if the pieces you love don't have a brand name or a big historical story attached to them. Look for pieces you love (we're partial to vintage side tables) and think could work with your personal style. Don't be afraid of reproductions too, if you are shopping on a budget they can be a great way to bring in the same look but without splurging on the real thing.
2. Mix eras that naturally complement each other
For us, the most interesting spaces are created when furniture from different eras are mixed together. Sticking to one era can make your home feel a bit like the set of Mad Men, or Bridgerton or *insert your television interiors inspiration here*, and if that's the look you are going for great. But the most unique spaces come from combining elements of lots of different eras.
So don't be afraid to combine loads of styles you love – it's how you get a room that feels totally yours. Trial and error works best, but create mood boards too before you start buying and find out what styles of furniture go together best.
To stop your rooms looking too mismatching pick one main style and accessorize with others. For example; a living room with a mid-century style sofa and coffee table, but an antique Persian rug and Venetian style mirror in the mix? That's a look we can see working and prevents to whole TV set situation.
You're best going for pieces that contrast too – the sleek, sculptural, simple lines of Scandi-style furniture with the softer, elegant shapes of 19th-century English antiques for example create the perfect pairing. And don't go too crazy mixing colors, you want the space to be eclectic but also cohesive so sticking to a common color palette or a repeated pattern will bring the look together.
3. Splurge on statement pieces that will become the focus of your room
You don't need to redecorate a whole room to create a space that feels very personal to you – just one key antique piece could do the job. It's these key buys that are going to become that focus of your room that are the ones worth investing in.
These pieces are often called the 'inspiration piece'; the furniture or artwork or accessory that becomes the jumping-off point for the rest of the room or even your whole house. Note how in this home the artwork is the focus, but the colors are reflected in the bench below and the chairs in the adjoining room. If a piece is going to have that much of an influence on the rest of your decor then go for it!
4. Repurpose antiques to make them work in your space
Fallen for your dream piece of antique furniture but not sure where it could work in your home? Think outside the box and see if it could be repurposed – we love the look of this retro cabinet used as a vanity, it gives a really distinct style to this bathroom.
There are plenty more ways you can use antique furniture unexpectedly. Try an old trunk as a coffee table, a dressing table as a desk in your home office, a large table as a rustic kitchen island.
5. Be patient and know what you are looking for
When it comes to buying antiques, especially online, just be patient and hold out for what you are looking for. Have lists too so you can keep a track of what you are after – note down names of brands, or specific eras you like and then you can easily search for them. You can create alerts on eBay for certain terms which does most of the work for you as you'll be notified every time something new comes up.
Write down all your measurements too! If you are looking for a piece to fit in an exact spot always having your measurements handy on your phone or saved on your computed will make sure you only invest in pieces that are going to fit spot on.