Need simple bedroom ideas to kickstart your bedroom makeover? Your bedroom is, of course, your sanctuary, that quiet place away from the hustle and bustle of everyday life. It also represents your style and what you love the most.
So where do you start when deciding on your design? When you're about to decorate your bedroom you need to consider your favorite colors, whether you fancy patterns or want it to be plain, do you love textures or prefer a more minimal look? Read our simple bedroom decor guide below for our top design tips and some inspirational rooms to check out!
For more bedroom ideas check out our full feature.
1. Pick furniture that's right for the size of your space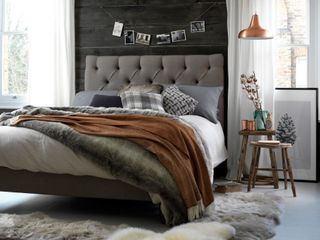 Yep, we know big beds are fabulous, but if you are tight on space then compromising with a double instead of a King is preferable if it means you have more space. The same goes for other bedroom furniture - a huge wardrobe is a waste of valuable space if you can manage with half the size and some underbed storage instead. You can swap out a chunky bedside table for a stool or two - the fact you can see through the legs will create the illusion of space and you can still fit a side lamp on it for reading.
2. Looking for a small update? Opt for new bedding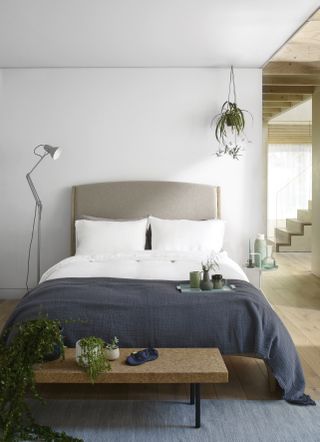 If you want to update your scheme but are on a budget, then simply investing in new bedding will give your room an easy new look. Getting into a cozy bed with luxurious bedding will give you a better night's sleep - we promise! Linen bedding is known for being cool in the summer and warm in the winter, this is due to it being naturally temperature regulating. It looks better the more you wash it and who doesn't love the slubby texture of a linen duvet set? Choose a color that suits your scheme, pale colors work well because you can accessorize them easily with throws and cushions - or go for fresh white for that unbeatable hotel style look.
3. Introduce pattern into your bedroom decor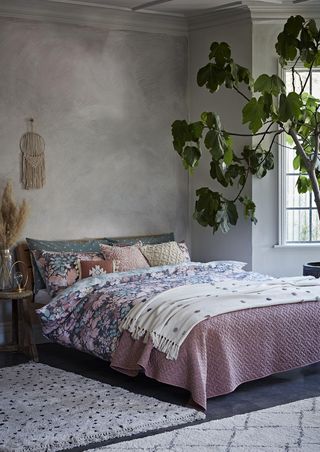 Do you love patterns but not sure how to use them? Decorating your bedroom with pattern will give you a fun boho eclectic look that will be more individual than if you simply picked plain bedding and throws. Various sized patterns and colours add character and you literally can mix florals, spots and textures together. Another top tip is to have more than one rug, it will make your floor feel and look more cosy, perfect for autumnal nights!
4. Go for a two toned bedroom design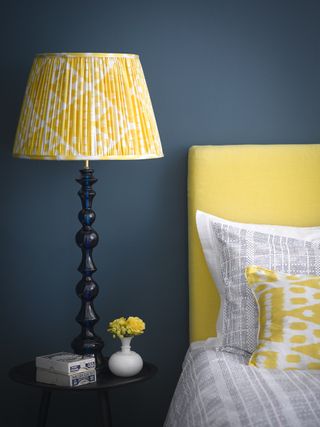 An eye-catching lamp can really be a decorating design feature in your bedroom, and a brightly patterned shade works particularly well against a dark painted wall. You can use your lampshade colour as the starting point for your scheme and then base the rest around it, for example, this patterned lampshade matches the cushion and the headboard is a similar yellow. Visually it all ties in beautifully to create a stylish bedroom that has a bold colour story.
5. Embrace the modern rustic trend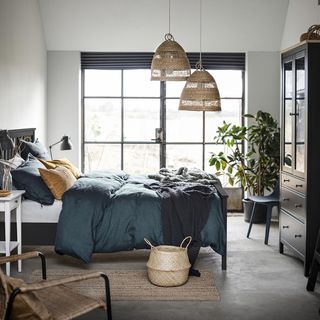 The modern rustic style is basically comfy living, you don't have the angular lines of modernity and natural materials are your friend. Coir and rattan are used to add texture and character yet they might be teamed with a concrete floor. It's about mixing the two styles together - you may have a modern style bed, but the bedding will be super soft with gorgeous tactile throws and cushions.
Read more: